ALRIGHT. We're back at it. Pretty unbelievable that we are, but if the famed Speedgoggles can reach the decade mark, we can put out a few more Not Trackie prediction columns. Muchachos and Mustachios lives on in memory of those who witnessed it, and yeah, add another passage to the maze of CIS/U SPORTS running humour for the younger athletes to get caught up on.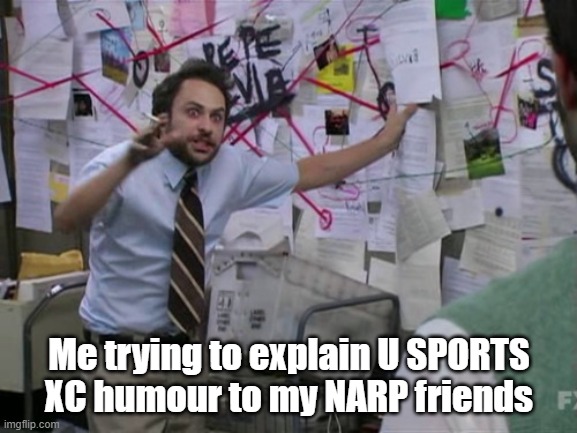 But this isn't Speedgoggles, this is Not Trackie, and HERE we do our best to present the most accurate predictions possible based on very important metrics like cereal consumption, silly names, social media presence, nostalgia, and just overall cool vibes. We also sometimes get caught with a sticky CAPS LOCK. It's an all-around fun time. So yeah, time for me to blast tunes while pumping these out last minute as per usual. Good thing I'm not racing this year. Thanks Tourism Nova Scotia for the header. Peggy has a pretty good Cove it looks like. Sorry for populating it with so many bagels. I also FORGOT to put a bagel in the "o" of "Contest" for the prediction contest header. L. It looks like it's going to be a wet one on Saturday folks, potentially windy too. Apparently every time U SPORTS goes out east it's destined to get blasted with semi-hurricane conditions. We'll see how that affects the race. Maybe it's karma for staging it at a flat course.
One last thing, if you're a team who is planning on participating in the green circle (cercle vert) challenge started by the good people of Québec, you can pick up your stuff at the following times:
Atlantica hotel: Room 1112, 8:30-10:30 pm.
Westin Hotel: Lobby, 8:30-10:30 pm.
Four Points: Please walk over to the Westin
Tomorrow, the only thing that's about to be served at the breakfast buffet is HOT TAKES.