Intro/PSA
Yeah, we took a break from the track and field predictions last year (not that anyone cared). A few factors contributed to that. First, governments and university administrations decided to abandon most COVID-19 protections, which pissed me off. Then, in large part because of the lack of protections, I actually contracted COVID-19 myself, which escalated the mood from floor-under-the-urinal type pissed to fire-hydrant-at-a-dog-park type pissed. Now, there aren't even mask mandates in indoor spaces, not even on airplanes. F.
I'm not blaming people for being ignorant about the state of the pandemic. Governments, university administrations, and public health authorities have failed spectacularly at communicating the importance of protecting the health of each other while a deadly, multisystemic virus that has been estimated by rigorous scientific reviews to cause long-term health effects for at least 10% of infections continues to circulate. So, we'll try to communicate the gist of it before getting on to the fun stuff.
2022 was the deadliest year for COVID-19 in Canada. Hundreds of thousands of people developed long-COVID complications as well including vaccinated people, young healthy people, and children. I've spoken to many athletes since protections started to be lifted who ended up getting sick and so had to miss important competitions, or even worse, suffered long-term complications from infection (we've even heard of at least one death in a previously healthy athlete who was close to the running community). Each reinfection carries additional risk of long-term complications, so it's important to reduce the risk to yourself and especially to others. The whole "living with COVID" mantra should mean doing our best to minimize transmission when we can, not ignoring the existence of the virus (kinda like how we don't ignore the numerous other potentially harmful aspects of society we "live with" by making safety features for them).
I'm not Stone Cold Steve Jones, so we won't yell this part, but the bottom line is this:
Just because governments and university administrations aren't making it mandatory to care about the health of other people doesn't mean we should stop caring.
You can find good masks here (no, masks do not harm the immune system): maskevidence.org/findingn95s
Speaking of governments and university administrations, they tend to act in favour of corporate interests more than they do in favour of the well-being of students and staff. This is true for pandemic matters, and this is also true for the other major crisis we have the pleasure of experiencing simultaneously, the climate crisis. Luckily, the Student Athlete Climate Justice Coalition (SACJC) is working to hold university administrations accountable, but doing so is only possible with mass-student participation, so we encourage folks to read more about the actions of the SACJC to date, participate in their green circle initiative at U SPORTS, and sign up for a team-information session by sending an email to sac.justiceclimatique@gmail.com. If you care about protecting the climate and your future, it's important to hear from those who have been heavily involved in doing so already.
Whew, that was long, but important. It's now just about midnight (Saskatoon Time) so we'll adhere to the album what we ripped the cover-photo from and SWIFTly get some predictions written (if that pun makes you quit here, we won't blame you).
Throwing
We're running out of ways to describe the varying methods these human catapults use to launch hyper-sonic projectiles into international airspace, but we'll give it a go. Before we get into mentioning any individuals, we have to shout out the entire UNB throws squad for apparently taking a page out of Eric Gillis' XC training book and practicing outside in November during a tropical storm. That whole fiasco featured plastic bags, tools, wet grass, flashlights, lost equipment, and smart teammates. Well done.
The Bujinator (Mark Bujnowski) has been legendary in the throwing circle since he entered the U SPORTS scene, giving his competitors a one year break in 2018 when he placed 3rd in the Shot Put and 5th in the Weight Throw before placing 1st and 2nd, 1st and 1st, and 1st and 1st in those events in 2019, 2020, and 2022, respectively. He's definitely looking to one-up classic coffee orders and go for a triple-double this year. Can anyone stop him? Maybe Andreas Toschke in the Weight Throw. Lethbridge, a university of just 8000 students, must have about 1000 who do the weight throw. We've heard from unverified sources that they recruit athletes specifically from lumberjack competitions, so I guess when you're used to swinging an axe it just requires a couple of tweaks to toss a hammer. Troschke has placed 3rd (2019), 2nd (2020), and 2nd (2022) in the weight throw and is ranked second this year. On the Shot Put side, Mathieau Massé-Pelletier (MMP) is continuing the 3-letter acronym tradition for le rouge et or. This guy found his strength by carrying sap buckets in his childhood on the sugar bush. He was second last year, but taking down the Buj is a tall order. Maybe friend of the show Zion Webb can dial up some Win City magic and put the pizza in the oven. He's having his best season so far and is ranked third. We wanted to shout out this Joshua Suelzle guy because sources are telling us he was executing a real Suelzle Sizzle out there at CanWest and has some kind of thing for lobsters. We don't know the details to that story, but it sounds funny so we're rocking with it.
For the women, Anna McConnell, who has an unprecedented 4 double letter combos in her name, is looking to double her gold medal tally in the Shot Put after winning in 2022. She will be challenged by a couple of athletes who did not compete at U SPORTS last year. Jennifer Weber, who was fourth in 2020 and 8th in 2019, and Emily Good, who has placed 5th (2019), 3rd (2018), and 4th (2017). Pretty good. For the Weight Throw, Lethbridge is fielding another ringer as second-year athlete Jinaye Shomachuk will try to better her second place finish from a year ago with the Pronghorns. We actually didn't realize a pronghorn was its own animal species. We thought it just was a type of horn. Imagine competing for a school named after a horn. Dibs on Tuba. University of Toronto Tubas. Better name than Blues. Close to Tuba is AUS champion Temi Toba-Oluboka from Dalhousie who comes in ranked third. Emily Fawcett is ranked second from Guelph. Idk what horn she rolls with. Trombone maybe. University of Toronto Trombones? Still better than Blues.
Jumps -Horizontal
Speaking of Blues, strap into your crow's nest because Jasmine Lew(k out) is launching mad hops off the board out there right now in the long jump. She was third in 2019 and after going Kit Kat mode and taking a break from the podium she will be looking for the W. Joely Welburn and Sienna MacDonald could challenge, but both are competing in multi-events the day before. Lew was second at OUA in the 60m as well and comes into that event ranked 5th, so she's a multi-medal threat.
Mandy Brunet of the Windsor Lancers leads the triple jump rankings and she beat Kristen Schulz, also a Blue, at the OUA championships. Schulz is ranked second (and finished second last year). I guess it's basically a given in the speed/power events that athletes are going to make a face while trying to exert every ounce of force they can muster for an action that lasts give or take one second. There has to be some kind of correlation between mid-jump face intensity and performance, right? If there is, while digging up athlete stats we came across Mandy's athlete profile cover photo, and it became clear as to why she is at the top. Well done. Watch out for Autumn Cole and Lexie Shannon, the CanWest and AUS champions, to challenge as well. Shannon won it last year.
On the men's side the westerners (geography-wise, not school-wise) like Michael Akintunde in the long jump and Daxx gonna give it to ya Turner in the Triple Jump.  For Long Jump, Eric Che (last year's winner) and Johnathan Jacob Jingle Heimer Schmidt… SHUT UP, HIS NAME IS NOT MY NAME TOO… went 1-2 at OUA's. Can Matt get IN the DOME and onto the podium? He's ranked 4th but was 5th at OUA's. Femi Akinduro and Kenneth West (a double Westerner: school-wise and name-wise) went 1-2 at OUA's in the triple jump, and if the current rankings hold up with Daxx in third the podium will be a complete déja vu of last year. You've gotta hand it to the triple jump officials by the way. They have to oversee three times the jumps of the long jump officials. YOU'RE SLACKING LONG JUMP OFFICIALS.
Jumps -Vertical
The vertical jumps might be the most technical individual event at these things, although I'm sure proclaiming that might piss off some hurdlers. Who the heck invented pole vault? Was it for crossing rivers or hopping castle walls? We're pretty sure rivers existed before castles, so we're going to guess rivers. Brennan Seguin will try to hop the South Saskatoon river with his pole, although he didn't compete at OUA so hopefully he's not injured. He was fourth in 2020. Jaime Eduardo Martin will look to repeat for Trinity Western, but Spencer Allen beat him at CanWest and some other OUA guys like Aidan Anger, Bennett Woods, and Nojah Parker will also try to challenge for the win.
In the high jump, Aiden Grout and Thomas Senechal-Becker are going to have a rematch of a crazy OUA battle that required a 2.20m winning jump from Grout. I guess they're calling it #AirGrout, which sounds like it could be a cleaning service for the stuff between floor tiles, but in this case it's a cheer slogan for a guy who would be untouchable in a grocery store chase. How can you catch someone who can jump over the aisles? Checkmate Loblaws. We'll see if the flying smurf can hold off #AirBecker. They just better hope #AirBud doesn't enter the picture because we all know how those movies ended.
Let's take a look at the women's pole vault story where Jennifer Elizarov is looking to build on a 5th place finish from last year. She took the OUA dub ahead of teammate Mia Rodney and last year's champion Alexzandra Throndson. That's a pretty unique Z to throw into a name. We're rocking with it. Can Alexzandra hit the call centers and dial up another unique performance? Despite best efforts from private telecommunications companies in Canada, Sasktel remains in public hands and gives superior service, so maybe.
Women's high jump? Madison Lawrence of the Manitoba Bisons took the CanWest victory ahead of Chelsea Ells, and will be up against Emma Dale who won at OUA ahead of Celia Markovinovic. Lawrence also won the pentathlon at CanWest this year and in 2020 placed third at U SPORTS for both events, so she's clearly a power machine… like idk, a jackhammer? Chainsaw? Definitely better than a weed wacker. ANYWAY…
Multi-events
Yeah, I guess the winners of these competitions technically become the top athletes in the building although I bet I could beat all of them in a game of mini-sticks so what are we really talking about here? Joely Welburn didn't start at CanWest and just mucked some individual events instead. Must be nice. She won in 2020 and was third in the high jump in 2019. I don't know why but it always seems to be high jumpers who are good at the multi-events. Maybe it's because they can hop massive hurdles as easily as cracks in a sidewalk. I trip over those cracks and break my mom's back all the time, but remember folks, all that matters here is that I would win in a mini-stick battle. The Hannah Blair-Joely Welburn battle is going to be insanely exciting and Madison Lawrence will challenge them as well, but we already talked about her in the high jump section. Hannah Blair is also entered in the straight-up high jump and is featured on Waterloo's 4×2 team, so it's going to be a busy weekend for her.
Men's heptathlon features Ryan Evans who won the OUA title pretty easily while punching his fist in the air like a super mario game but he will be going up against super Brandon Gremaud and super Cameron Bruce at U SPORTS. A super Max Speiser could factor in as well and holy heck this James Neufeld guy vaulted 4.70 in the pentathlon at CanWest after no-heighting in the high jump. I don't know what I would do after no-heighting something. Definitely wouldn't pole vault 4.70. Would probably get deep into a few bowls of Cinnamon Toast to try and cheer myself up. Again though. I win at mini-sticks. Any of these athletes on the men's or women's side would probably crunch me into the boards like metal in a stamping factory machine but that's beside the point, I'm built different.
Sprints
We've got some interesting stories going cookie cutter on dough mode and shaping up on the sprint side. Let's start with the 60m hurdles where Jacqueline Madogo can go-go gatchet YOLO I mean she's been lighting it up out there like an AV production team at a pop concert. What kind of pop concert? IDEK what the kids listen to these days. SZA? Dawn Richardson-Wilson went bbq mode and smoked one at CanWest to destroy the meet record. Dang. She'll be looking to get SZAme. "IF YOU WANT SZAME, COME GET SZAME," is what I would say if I was Jacqueline in the starting blocks looking at the rest of the field like Quebec champ Donna Ntambue and OUA standouts Lew (2nd OUA), Ogor (3rd OUA), and Gbinje (4th OUA). After writing this bit we looked up how to pronounce "SZA" and found out it's "sizza," not "zah," which kinda ruined the "szame = some" joke. TOO BAD WE'RE NOT REWRITING IT. SZA 1, Not Trackie 0.
60 meter hurdles is a whole new ball-game. The only athlete competing there who is in the flat 60 is Catharina Kluyts, who is also the only athlete ranked in the top 12 in the 60/60H/300. Nice. Catharina beat Tyra Boug last year but it should be a good rematch this time around with Boug coming in ranked first. Kendra Leger has placed second in this event twice and fourth once, so she'll try to sneak one past them.
In the 300 hundred it looks like the Zoe Sherar show will be back trying to take her fourth 300m gold in five years of eligibility. It doesn't get much better than that. BUT, Audrey Jackson, who was 5th in 2018, which was the last time Zoe did not win, will try to channel some of that Quebec quickness for the upset. Kendra Farmer, aka K Farms, is pretty good out there and took the win at CanWest so is familiar with the track, but if she's going to take the win here she's gonna have to go cereal mode and enter the Special K Farms zone. Boug and Paige Willems are pretty good here too, although Willems being super-close-to-but-not-quite Williams rattles me. Also, Madogo is in the pucture throwing her gatchets around. Toss up for the medals.
In the men's sprints, Usheoritse (aka Dushos) Itsekiri comes in as the heavy favourite having won last year and sporting a PB of 10.02 which is nasty. For all you soccer fans out there, have you ever thought having the name "sporting" at the front of a team name is weird? …Oh boy we went down a big rabbit hole for this one because we thought it was more common. Fun fact, the top 4 English leagues currently have zero clubs with "sporting" in the name. The most well-known team is Sporting Lisbon out of Portugal… ANYWAY, Dushos really pounds the track like a percussion session in a recording studio out there and it should be an interesting battle for second between the OUA champ from Waterloo Immanuel Onyemah (2nd at U SPORTS last year) and OUA silver medallist Travis Campbell. Jordan Soufi was third last year and is in the mix as is Storm Zablocki and I mean idk what a Zablocki storm is but if he runs fast we could experience an extreme weather event in the fieldhouse.
For the hurdles, this Craig Thorne guy is really a thorn in the side to everyone else competing because he can sail cleanly over hurdles like an expert Yacht Squadron I mean holy heck. Rami Gharsali, the leaper of Lakehead, was able to make the The New Brunswick Beautician sweat at OUA's, but Craig still came away with the dub. We'll see if anyone else is up for the challenge at U SPORTS.
Onto the 300m and this one could be an exciting race as friend of the show Tyler Cox-Yestrau took the W from the slow heat at CanWest. That's some dangerous stuff, but will those tactics be successful against Emmett Bravakis? Daniel Harper is finally in his last year of eligibility and will be joined by teammate Marcus Penaloza-Abankwah to try and crack the medals. Harper won it in 2020, and we can't imagine it would be easy to crank the hips on indoor 300 turns for as long as he has, so respect the effort. Kai Spierenburg will be out looking for CanWest revenge against Cox. We haven't even talked about Dan Lord, who won the AUS championships. We've said it before and we'll say it again, it's gutty to have Lord as your last name. We rock with him though. The Not Trackie studio gets turned into a tectonic plate when he's up on the track. There are a lot of guys who could medal in this one and you just know they're all going to be gassed up like balloons at a birthday party. The fieldhouse might float away with that kind of energy.
Mid-distance
Oh baby the Quebec boys are nasty in the 600m with Yassine Aber, Micael Anku, Laurent-Olivier Dumont, and Zakary Mama-Yari all stacking themselves into the top 7 like a club sandwich with pickles but the Bisons have some cheddar cheese on tap with CanWest champion Tristan Allen and silver medallist Dawson Mann taking the grater and absolutely shredding it this season I mean they know which side of it to use –the big holes side baby. Shout out James Acaster for that joke. What in the heck does the side with three slits do??? Zach James from Dalhousie is in the mix as well, but you have to go all the way down to 8th to find the top OUA ranked athlete, Alanzo Ryan. Impressive stuff from the other conferences in the 600. We're rocking with Allen.
Enter the 1k and we have a real battle shaping up between a lot of dudes including Aidan the Glizzy Gossy Goslett, short king Jude Wheeler-Dee, Quincy's bistro express Fast, and Zipdaddy Purnell. Who do we favour? Idk how anyone can top this sort of energy:
Then again though. Naa Naa Naa nananana hey Jude Wheeler-Dee can kick from anywhere.
Alrighty, women's 600. Can Quebec champion Emma Dagenais take down two-time medalist (gold 2022, bronze 2020) Sadie-Jane Hickson? We've also got SPECIAL K FARMS back in the mix here and Avery Pearson might be dipping into some shreddies. The Canada West 600 final went faster than the OUA edition did. Back to Dagenais though, she has shown massive improvement in the last two years. It's like when people started to sit on chairs instead of stumps –the lumbar support was upgraded dramatically, although maybe we should just sit less. Yeah, fuck office work culture. We are going to be watching this one with a bowl of cinnamon toast crunch in the stands. Mark my words.
Women's 1000m we have the Guelph throng putting huge times up front and they swept the OUA aside with a fantastic four finish of Ormond, Hickson, Whitford, and Agostinelli. Fantastic four was a pretty bad movie (per sources), but the Guelph women's 1k is a pretty good team. How's that for juxtaposition? That might have been the biggest word we've used all year. We are a fan of people whose mission it is to break up sweeps though, and that task has been left to Jessy Lacourse, Emma Dagenais, and Olivia Cooper. Can the Cooper scooper go ice cream mode and put some Guelph balls into a cone? Can Dagenais channel some of that 600 speed? Is Lacourse nasty? We are pretty sure Lacourse is nasty. But is she "c'est demain coliss" type nasty? We'll find out demain demain.
Distance
Ah, the distance. Writing in our element is easier, which is why we spent all our energy on the other events first. You're welcome other events. Who the heck it taking the 1500 folks? Cameron Ormond has run a 4:30 mile this year but was aided by Boston Bounce. Olivia Cooper didn't race the 1500 at CanWest, but IS entered here. That's someone who is more used to the flat track. Especially flat green tracks like what can be found at the Butterdome in Alberta and the Red Roof Inn in Saskatoon. Can Jessy Lacourse AGAIN/ENCORE be nasty? We're asking for a lot of nasty here in the studio. Maybe FloCo can channel some of that airbag energy she had during the XC season and blast one. Nina Whitford is pretty good, and we tweeted this about Jenn Erickson recently…

…although we think the 3k is more her event. We didn't want to use the "no 1500 is the same" cliché but we just did. Get your baseball because it's always a toss-up.
In the 3k, the aforementioned Erickson comes in ranked fourth with a 9:30 to her name, but was only good for 3rd at CanWest! Wow. That's because Jenna McFadyen is soap brand mode absolutely dialed in. Unlike us, she knows how to use the "y" in her last name, and she's been using it to lay waste on 3000m fields this season like a farm undertaking some manure application. That's right, just leaving piles of shit behind while clocking fast times. You love to see it. Kaila Neigum is looking to podium and make the entire field experience some Regina. That could be fun. Sophie Coutts from Western is having some good runs too, and she beat teammate Anne Carruthers at OUA. Catherine Beauchemin has been getting mucked by a program that places her in our crumbling healthcare system (which we really need to do something about) but could be a factor after running her qualifying time in December. CAN LACOURSE BE NASTY? SHE WAS SECOND AT XC ON THE LINKS.
Men's 1500 let's take a long hard look at Matt Beauty Beaudet and the field lined up behind him which includes the Purndog Alec Purnell, Sackville Sensation Andrew Peverill, Jude Wheeler Snipe Celly Dee, and Alex Drover. Drover tried to outlast Jude from a looooong way out at OUA, but Wheeler was able to go adhesive mode and close the gap. Peverill has been on an absolute tear since August when he won the Canada summer games 5000m and was second in the 1500. He followed that up with a 6th place finish at U SPORTS XC at a competition that was adjacent to his Sack(ville). How many guys will he be able to sack here? He might not be Santa, but we hear he's carrying a pretty big bag. Purnell is recovering from what we are hearing was a non-covid illness, so we'll see if he's able to shake off the minor amount of rust in time and adjust his speed suit zipper to the proper levels. We think this one could come down to a crazy battle between Beaudet and Dee, but maybe that allows someone else to sneak through? Hard to know what to expect from Drover. He tends to try and go Bobby Orr style end-to-end with these things, and he's hungrier for a medal than Mario is for mushrooms.
Men's 3k we have the McMaster five guys burgers and fries joint opening a franchise on the start line with all scoring members of the U SPORTS championship squad entering the field. That's Drover, Davies, Turek, Alick, and Nusselder if you forgot.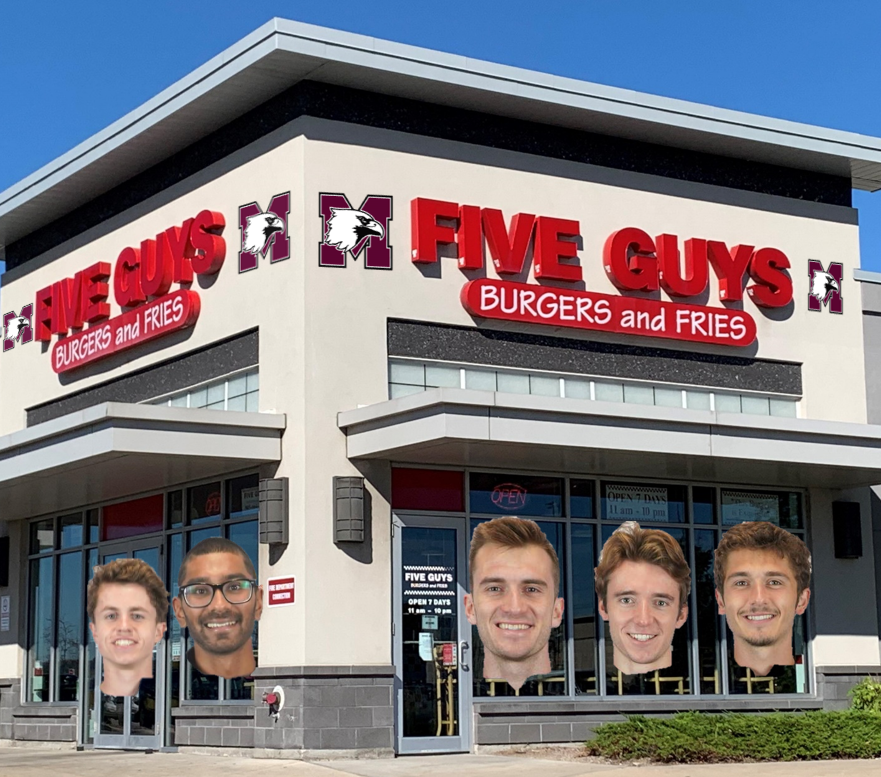 Unfortunately it looks like a DNS from Morecar at RSEQ was due to injury, and he will not be competing. That stinks, because like we said before we enjoy sweep breakers. That puts the broom snapping pressure on the Sackville Stunner, Peverill, Beauty Beaudet, and Nick Bannon, who needs an even larger freakout than normal. Bannon's probably fine folks, no worries, but can he take out some of the flying V and turn it into an italic I or italic lowercase l? The Marauders might try to make everyone hurt in this one. It's a good thing they have Backwards Bearcrawl experience. Can Matt have a "Beau Day?" haha… HA.
Relays
Honestly we kinda want to just mail these ones in but let's take a look. Women's 4×200 looks like Saskatchewan could potentially challenge Guelph for the win. You have to think we'll be seeing more of K Farms here (and also Paige Willems) but Guelph is Herby Fully loaded on the sprints (see above). For the guys, it's not as clear cut (bad logging procedure). Guelph is ranked at the top and won at OUA's, but Regina, Alberta, Manitoba, and Western are all fast. Western might have some guys who are a bit more well rested and that could help them clinch a podium position. The Bisons were third at CanWest behind Regina and Alberta by less than a second. Even Waterloo, who was third at OUa's, could challenge. Especially since we're hearing they have chosen to exclusively wear suits all weekend. This one will be close.
4×400: on the women's side, it's Guelph pretty easily we think. Second place is a different story with Saskatchewan (CanWest gold), Alberta (CanWest silver), and Laval (RSEQ gold) fielding solid squads. We've been hearing reports that the Laval ladies have been snowshoeing deep in the woods to help with knee drive for this event, which could be enough to put them on the podium. On the men's side we are rocking with the Bison Bros from Manitoba who have at least two nasty runners in the 600 in Mann and Allen and at least one nasty runner in the 300 in Cox-Yestrau. They barely held off THE DINOS at CanWest though, so that's going to be a tight battle. Guelph, Toronto, and Montreal are all fielding solid teams in this event. Who's got the knee drive? The Carabin caravan has definitely been sprinting up Mount Royal all season, even when it's a sheet of ice. Watch out for them. Imagine if they drove a Caravan to Saskatoon? 33 hours to the dome (per google maps). That would be insane.
Finally, the end. We have reached the 4×800 and it's always an interesting event. For the women, I am not sure how anyone is going to beat a Guelph team that stacked the top 4 athletes onto the 1k shelf at OUA's. If anyone can do it, the best chance is Laval (IS LACOURSE NASTY?) but that honestly might be too many events for Jessy to have enough gaz left. For the men, Alberta won it on home ice in 2020, Manitoba won it on home ice in 2019, and Saskatchewan is ranked second coming into this event. THE ORDER MATTERS FOLKS. Just ask the university of Victoria 2016 and 2017 squads. The Manitoba boys are good here too, as are the Gryphons, Bears, and Dal Dudes. If Ron Maclean can go piss in the rain mode the bears might get a real steamer here, but you have to think the Dal boys are on top of their hot dog game right now they really know when to put the mustard on one. Heck, even the UNB guys and their freshly shaved domes are in the mix here. Who will get the lineup just right? Who will jump over the boards and celly with the cup? We're rocking with… the officials. 16 laperoonies of chaos for them. Good luck.