The Short Version
In November, hundreds of university cross country athletes wore les cercles verts (green circles) to demonstrate our commitment to climate justice. It was a great first step, but if want climate justice to be realized, we must go further than this. We are inviting everyone to meet on Sunday, February 5th at 7pm Eastern Time so that we can build a consensus plan of attack for how we will move forward as a group. All athletes and alumni are welcome.
Edit*: please email justiceclimatique22@gmail.com or follow @justiceclimatique22 on instagram to help continue building the movement.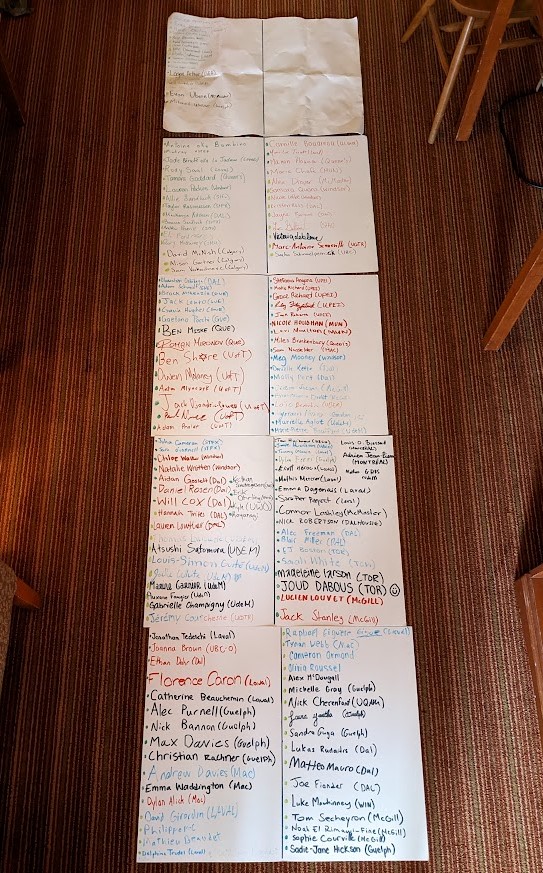 The Long Version
The community nature of sports gives athletes a unique position of influence in society and a platform that can be a powerful tool to spur social change –even fringe Canadian university sports can have many supporters. There are numerous examples throughout history where athletes chose to use their platforms to fight for social justice. Billy Jean King worked through her most competitive years under much criticism to lead unionizing efforts and eventually the formation of the Women's Tennis Association. This dramatically furthered pay equality for women in tennis and had a positive effect on efforts being led in other sports as well. Muhammad Ali gave up years of his prime to protest the unjust Vietnam war, and used those years to speak about his opposition to the war. More recently, a wildcat strike in 2020 by NBA players put pressure on team owners to "take meaningful political action towards ending police brutality and the disproportionate use of deadly force by cops against Black men and women." It's likely this strike could have led to even greater positive change if Barack Obama had not convinced the players to ease off, but it still gave momentum to Black Lives Matter and Defund the Police movements across North America. The US Women's soccer team managed to win true equal pay after years of being in the public spotlight. During those years, their most outspoken player, Megan Rapinoe, drew criticism from Donald Trump. Rapinoe has also been an outspoken advocate of trans athlete inclusion in sports, no doubt inspiring countless other athletes to read about this topic and fight for trans rights.
The fact that high-profile politicians feel threatened by athlete activism makes it clear that sports can be a strong mechanism for change. We should make use of that. Countries and institutions fund sports to unify large segments of the population, but they know that this can also be turned to work against them, which is why administrators try so hard to perpetuate the idea that sports are some sort of "apolitical" arena. Regulations that suppress athlete expression like the Olympic Committee's Rule 50 reinforce the political status quo –that is a political stance. Our society is currently dealing with multiple intersecting crises, so we thought this would be a good time to stage a series that details some of the most pressing issues currently facing athletes in Canada and begin a discussion on meaningful actions that athletes can take to further positive change in these areas. With a larger platform comes a greater responsibility for the state of affairs. It's important to note that achieving meaningful change requires a group effort –one that especially prioritizes the voices of people who come from historically marginalized groups. We have two goals that we hope result from this series:
Get athletes thinking about how participating in sports can reinforce, or even worsen harmful status quo policies and how athletes can work together to change this.
Communicate the scale of some of the most pressing issues we face today and emphasize that it will take a combined effort from people in all facets of society using all the available tools they have to make the necessary changes. For athletes, these tools are low-risk in comparison to the actions most others can take and their scope of influence can be much larger.
The Climate Crisis
We are at a point in history where nearly all students will have learned about climate change and global warming in elementary and high school. Climate scientists and environmental activists worked for years to get this teaching into education curriculums. These scientists and activists achieved this despite being subjected to massive misinformation campaigns promoted by oil and gas companies that prioritize profits above the well-being of society (for example, a 1988 memo uncovered by a Los Angeles Times investigation reveals how Exxon explicitly employed a strategy where they would "emphasize the uncertainty in scientific conclusions regarding the potential enhanced greenhouse effect." They did this while their own scientists were making accurate climate predictions comparable to independent academics at the time). These misinformation campaigns persist with subtle changes in tone. Oil and gas companies can no longer question the existence of the climate crisis, so they present themselves as the solution by promoting carbon capture technology and by claiming our economy and society is dependent on them. Carbon capture is not a viable solution, nor is it necessary, and Canada's oil and gas extraction industry creates the fewest jobs per million dollars of value added to the economy, so corporate shareholders are the ones who benefit from it, not working-class people[1]. It's important to note that ignoring the climate crisis is more expensive than addressing it.
The fact that oil and gas companies are actively misleading the public shows that we should not trust fossil fuel corporations to respond to the climate crisis in a way that benefits everyone. They will respond how they always do, in the interests of their profits. They have already used the COVID-19 crisis to accumulate record profits while everyone else struggles to afford rising prices. Governments, which are supposed to represent the people, cater to the demands of oil and gas companies instead. The federal liberal government continues to meet with these companies at record frequency, and as a result gave at least 18 billion dollars in subsidies to them in 2022. If we want a just transition that benefits the people, the people will have to lead the change and force those with decision-making authority to act.
The Divest Canada Coalition is an example of a movement pushing for meaningful change. The goal is simple, "that universities and colleges recognize the threat the climate crisis poses to the futures of their students and address that threat by divesting fully from the fossil fuel industry." The movement has already had success with 12 universities committing to full or partial divestment, but this success does not come easy. University boards of governors are very stubborn, and so while work is being done by Divest Coalition activists to divest more universities, effort is also required to ensure the ones that have made pledges fulfill their promises. Part of the reason for this stubbornness is that universities are lobbied by oil and gas companies too in the form of research funding and donations. This lobbying has increased because public funding for universities has declined, making them more dependent on private entities. Another factor worsening this problem is that university decision-making structures are often inherently undemocratic. For example, at McMaster University, only 8 out of 37 members of the board of governors are directly elected by the students, staff, and faculty at the school. 17 are simply appointed by existing board members and so are accountable to nobody. Because of this trend toward corporate funding, McMaster's board of governors is filled with current and former corporate executives including a current senior RBC Vice President, former RBC senior Vice President, and a former ExxonMobil and Imperial Oil director and Vice President. RBC is Canada's largest financer of fossil fuels[2], so it's plainly obvious why McMaster's board refuses to make a pledge to divest.
We can fight these undemocratic decision-making structures by forcing university board members to act. In our previous article, we spoke about how athletes at national and university levels are funded largely to act as a marketing mechanism that enhances the image of a country or university. If athletes refuse to fulfill this role in the way their funding institutions want, decision-makers will be forced to provide concessions to ensure the image of the institution they govern is not damaged. In November, hundreds of university cross country athletes wore les cercles verts (green circles) to demonstrate our commitment to climate justice. It was a great first step, but for climate justice to be realized athletes must do more. We are inviting everyone to meet on Sunday, February 5th at 7pm Eastern Time so that we can build a consensus plan of attack for how we will move forward as a group. All athletes and alumni are welcome. It's important to recognize that beyond the scope of divestment, we need the decision-making structure of our institutions to change. Only then will decisions be made in the interest of the public good.
Edit*: please email sac.justiceclimatique@gmail.com or follow @sac.justiceclimatique on instagram to help continue building the movement.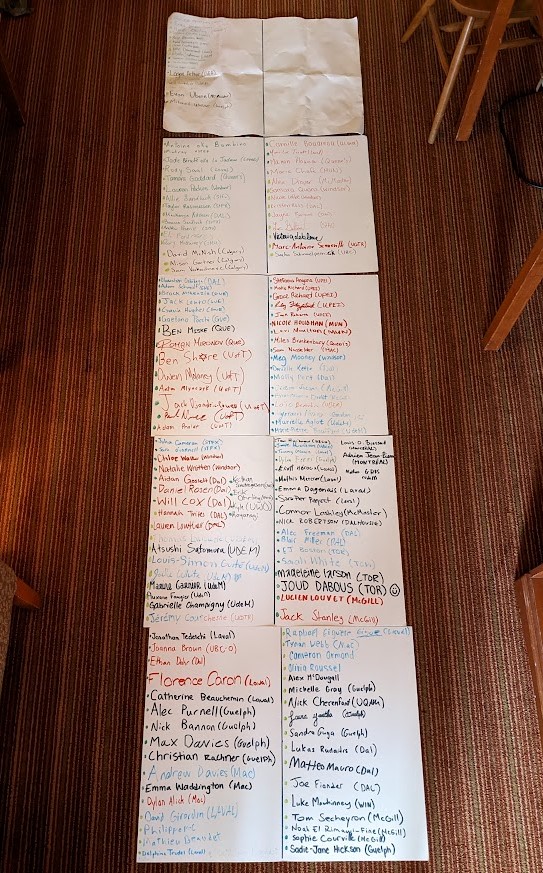 References
[1] Page 26, https://albertapolitics.ca/wp-content/uploads/Employment-Transitions-Report-Final.pdf
[2] Page 5, https://www.ran.org/wp-content/uploads/2022/03/BOCC_2022_vSPREAD-1.pdf