Meet Info: here
Live Results Link: here
As hard rock Nick would say: "OKAY, IT'S A-C-X-C TIME." Honestly, idek why I'm writing this –I don't have the time and it's definitely going to be awful and potentially rife (RIFE) with grammatical errors. I didn't really talk to anyone and don't even want to look up results at the moment so we're literally going off of pure memory and making shit up to fill in the gaps. Yeah, like the good old days. I hope you have some stamps because we're mailing it in. Watermarked photos ftw. Here we go.
Women
Notables on teams:
CSLS: Poirier, Plourde, Garnier, Aglot
CAUL: Bérubé, Lacourse, Paquet, Gagne, Lepine
Royal: Ariano, Gollish, Guga, Prouse, Roussel, Shukla
TBIR: Beckett, Gibson, Hawthorn, MacGillivray, Newlove, Sexton
Phys: Steer, MacDougall, Bouck, Blair
MOAC: Brennan, Chau, Popadich, Thompson
TOWA: Alex Lucki, Mikaela Lucki, Laura Peters, Gendron, Julia Cameron
LWTF: Burke, Current, Hewitt, Kuerschner, Schulz

Notables not on teams:
Ayers, Bernard-Galea, Teschuk, Staehli, McCulloch, Ginther, Brooking

Analysis:
ALRIGHT, we'll start with this meme submission from the T-bird women's squad, which is a good submission. They said they were feeling left out of the memes after we discovered motion tracking in video editors and posted a couple men's ones ([1], [2]). And fair enough, but this is what we like to see, TAKING THIS WEBSITE INTO YOUR OWN HANDS. THIS IS THE PEOPLE'S WEBSITE BABYYYYYYY. LET'SSSSSSS (deep breath) GOOOOOOOOOOOOOOO!
So, looking at those women's teams, CSLS stands for something something St. Laurent Select. Basically it's mostly Montréalers, les habitants, who placed an underappreciated 6th (I think) at U SPORTS. That's respect. Literally never would have guessed it. Never heard of Garnier until this year except for on skin care products. Aglot and Poirier decided to demolish the links. Wow. Let's mix that in with a bit of CAUL. No Beauchemin for this one which will make it tough, but Bérubé, Lacourse, and Paquet are fire. Bérubé especially owns a boombox as big as a skyscraper. Yeah, Laval hauls that thing around with featherlight, Québecois-engineered canoes. Pretty nuts that someone had to trek down le Fleuve Saint-Laurent with that thing. Impressive.

Let's move on to the Royal City. First of all, monarchies suck and are not a legitimate form of governance. Don't be called Royal City –now I'm pissed off. Regardless, this team is pretty nasty. Shukla decided last year to get good at distance and ran pretty well at the Western invite in September. Ariano came fourth at OUA's before getting tripped up on the links (pour one out). Gollish doesn't know what retirement means (respect). Guga sounds like a Queen song. We all know Prouse is nasty, to the point where she sometimes chews gum while running for extra style points. And Roussel was in the top 10 at U SPORTS. Dang.

Double dang when you check the TBIRDS lineup. Newlove is probably the slowest of the bunch on paper but seems like someone who would never crash if she was a car I mean she's absolutely (w)reckless. Hawthorn and Sexton? Nasty. Gibson, MacGillivray, Beckett? All top 20 something at U SPORTS. Double nasty. Favourite to win.

Physikult has a low-key roster led by MacDougall who is a dark horse threat for a team-Canada spot (top 4 are auto Q's by the way, 5th and 6th are maybes). Monarch could be good –they've got four solid runners who at one point in their lives were super nasty and it's good to see them still sending it on the XC course. Toronto West has the Luckis and Gendron (Alex was low-key third last year), but maybe could use some Toronto East for help (a direction joke? Yeah, sorry). And the London Western Mustangs could actually be really good behind a charging Kate Current. We'll see if the other 3 can plug into that kind of energy. It's really good to see a lot of athletes hitting the 10k out there that's for sure.

Individually, Maria Bernard-Galea was second last year to Lalonde. Dang. Kate Ayers shows up at like one high-key race every sixth months to lay down a formula one speed-run. Staehli has been running in the low 15s for 5k, Teschuk has been on team Canadas for stuff, Brooking and Ginther have made Canadian XC teams, and McCulloch I feel like did some impressive stuff as a junior? Lastly, honourable mention to Jasmine Feddema for running for a club called GRIZZLY Endurance Collective Athletics Club (GECA). That's cool. We'll pre-emptively shout out Stuermer, Murray-White, and Radowits in the men's race too. Unfortunately they couldn't combine teams to have a squad of four runners.
Prediction:
TBIR, Royal, CAUL
Staehli, Bernard-Galea, Hawthorn
Men
Notables on teams
GECA: Radowits, Stuermer, Murray-White
Sher: Mackinnon, Quirion
Bandits: Black, Coughler, PPM, Tate, Sheeler, Sheffar, Master
Phys: Brackenbury, Kanko, Fournier, Scace
TBIR: Broatch, Dozzi, Gay, Gravel, Nobbs, Taylor
Harbour: Davies, Turek, Drover, Morgan
Laval: Girardin, Tedeschi, MoreCar, Shaink
Royal: Ubene, Hannam, Patton, Kinahan, Lawand, Nowbotsing
Notables not on (good) teams (mile to marathon roast):
Ghali, Neuffer, Wesselius, Dwyer, Mason, Bruchet, Wykes
Analysis:
Okay, so we already mentioned the Grizzlies. Sherbrook could be kinda good because Perry Mackinnon was like top 7 over 5k at ACTF and this Quirion guy was the U SPORTS rookie of the year. How good are the others on their team? Absolutely no idea. BANDITS are looking for redemption after falling to the psychological warfare of the TBIRDs last year and to be honest I'm not sure if they've recovered. Sheffar seems to think so, that's why he wears shmediums. Coughler can fix your back and sources are telling me Connor Black eats toast for breakfast, not bricks (I'm skeptical, the guy is solid as a rock like the tougher the course the better. You could staple a nail gun into this guy's abs and it would rebound off). I couldn't figure out what Phil Parrot-Migas' favourite kind of guacamole is. We're gonna guess the kind that is mixed into a (vegan) 7-layer chip dip. Has Tate run enough bad ones out of his system to be the nail in the coffin for the dub after rebounding off of Connor? Tough to say, but these guys even went as far as Beantown to prep for this, venturing to some bars near the rainbow to meet some Irish folks who were drinking beers made of sawdust. They're gonna really try to give 'em the beans in this one. Speaking of beans…

Royal City will be relying on a certain Ubene –the beaner, the beanski boi –to lead them. Followed by some dudes from their Guelph hub (Patton, Hannam), and their Toronto hub (Lawand, Kinahan, Nowbotsing). Is that even allowed? Who cares! Respect Rohan for doing a 10k buddy, let's see an absolute cannon of a first 800. Gonna end off this segment with a Spiderman meme.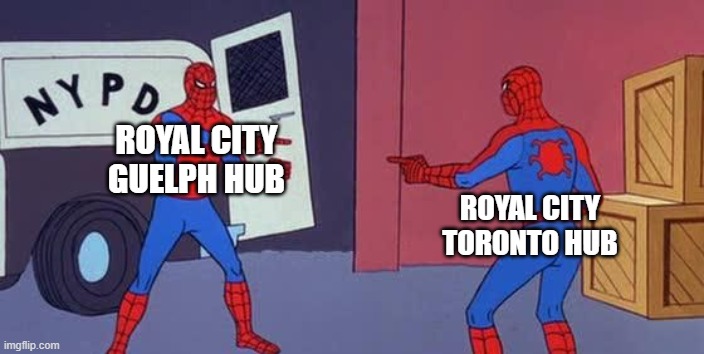 Physikult could scrape together a fourth place finish because you just know the K(r)ankdaddy is cranking out some monster workouts with a headlamp in Hamilton. This guy flies more under-the-radar than this children's show drummer, who could easily be in a headline band but chooses to do it for the kids. Unbelievable stuff. Scace does some weird stuff in the mountains and Brackenbury just helped clutch U SPORTS bronze. Fournier has four in his name. There ya have it.

TBIR I mean Dozzi is doing his best to make up for what was probably a concussion by ensuring none of the other teams are mentally prepared as well. Respect the effort. This guy gets under more skin than bones, and those exist EXCLUSIVELY under the skin unless you've waited for the body to decay and stuff. Major sandbag ALERT for the guy too. John Gay is gonna win I think, unless he didn't taper enough from doing a running equivalent of the Proclaimers per week. Nobbs exists in an Arizona training hub and nobody knows what kind of antics he gets up to, even his own team. Hopefully his watch is working or he might not show up to the line on time. Gravel, Broatch, and Taylor are good. Broatch gets near-zero respect. He's like a rusty bike that gets it done day-in-day-out but never gets a routine grease-job because the rider is negligent. Rusty bikes Broatch. I think that could catch on. Can they defend the title? We say YES off of pure meme energy. Plus, we're pretty sure Evan Elder is some level of wizard.

Harbour: Blair Morgan trades the whole squad for some relative youth that is busy figuring out how many five-year-olds they could take at once in a fight. Idk man, these three guys talk so much about running that it would definitely take just one elite-ninja five-year-old to kick their asses. They will be the ones doing the ass-kicking on the course though.

Laval: No CPT or Fafard is tough, so it all depends on IAN SHAINK. I shanked my golf ball at the driving range the other day before picking up a cut of BEEF SHANK at Food Basics. Let's go. More god damn Car baby. Tedeschi will be saluting everyone on the line because why not, and Girardin really knows how to frapper les tambours. I think Félix «El Goulino» Lapointe is probably the swaggiest coach in the league, so that has to count for something.

And yeah we wrote down Ghali, Neuffer, Wesselius, Dwyer, Mason, Bruchet, and Wykes as other guys who have done stuff. Ghali I feel like has ripped some 1500s in his life. Maybe some 3k's. Neuffer sails on slow ships but runs in fast shoes. Lee's initials are L and W so on any given day you never know which one of those will dominate the narrative. Dwyer is holed up in his Niederhauser. Johnny Mason is the definition of grind in the dictionary. Wykes has run like a 2:10 marathon at some point I think before all this shoe madness, and Bruchet has won this 80 times. Interesting stuff here folks.
Prediction:
TBIR, BANDITS, Harbour
Gay, Gay, Gay (gotta get that mileage in somehow).
Conclusion:
That's it (redundant, we just said conclusion). I hope you like HILLS (per sources). Shout out to ACXC for making people pay for the stream. L.