Intro
Don't ask and you shall receive anyway. WE'RE BACK and late, as always, with some Canadian National Track and Field Championships predictions. What's the point of the intro? Usually it's to comment on how silly this is while subtly (or not so subtly) bringing attention to important political issues. Today we're gonna do that at light speed, so adjust your special relativity monitors and read below before going 10m platform mode and taking a high dive into whatever the heck we decide to write for the event commentary. That means YOU live stream commentators. This could be useful for ya.
Bell sucks. Nationalize the telecoms
COVID can cause long-term consequences to health for anyone. You should wear a mask to try to avoid getting it multiple times and to avoid passing viruses to other people. If you do end up contracting COVID, here's a flow chart for return to exercise protocols to try and avoid long-COVID. Shoutout Exercise and Sports Science Australia for making it.
(we're gonna post this with the Thursday events and then update it)
Thursday Events
Mens' Discus: yeah, we totally dropped the ball on this one because it already happened. Probably comparable to the level of embarrassment golfers experience when they shank their ball into the water and have to go to the drop zone. Whatever. Youssef Koudssi, who won last year and has improved his PB by a Burger King type WHOPPING 5m this year, came in as the favourite and launched a UFO into the atmosphere. That's right, all those alleged UFO sightings are just discuses… disci? Koudssi has Québec ties and competes at the University of Arizona. Jeremiah Nubbe placed second in this one and competes at the University of Texas. Both these guys are dual citizens who recently obtained status to compete for Canada, so that's interesting.
Womens' Javelin: Well folks this will be there first time in a DECADE that Liz Gleadle will not win the Javelin title. The last time she didn't compete was in 2013. That's crazy. Who will take the dub then? Keira McCarrell, who was second last year, and Ashley Pryke come in as the favourites. Bailey Dell and Pascale Dumont placed third and fourth last year and could find themselves in the mix too.
3000m SC: We know the real reason why people watch the steeplechase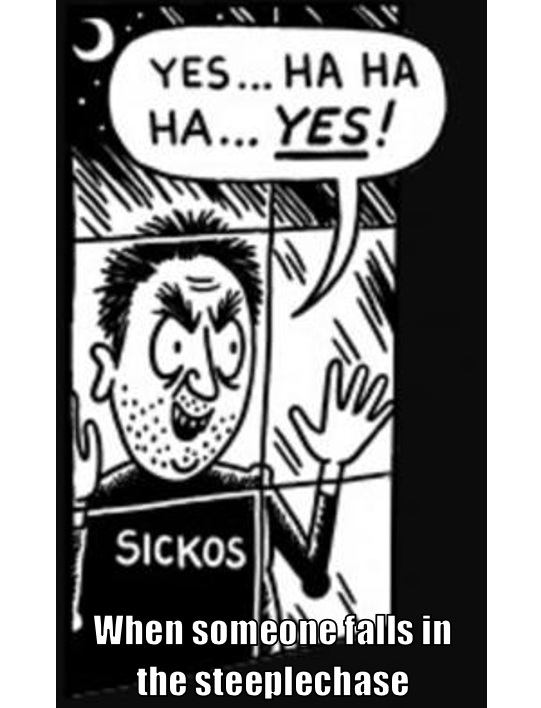 Not actually though, because the steeplechase is always rockin' and rollin' to the point where all competitors might as well dress up like KISS and go all night (and party ev-er-y-day). That WON'T be the case for John Gay though. THAT guy will have been prepping for this event by spending hours throwing himself around a bouncy castle equipped with megaspeakers blaring Nickleback's greatest hits. He hasn't raced a ton lately, but he's not the type to just sit around and hang out this afternoon, the vibes are never Far Away. He's won the last two titles and was third in 2019 behind Matty McStud Hughes and Ryan Smeeton, but LOOK OUT (FAIRE ATTENTION) for Jean-Simone Dégagnes. JSD est en train de tuer sur la piste –hopefully I didn't do that translation poorly. He comes in with a "Record personnel de 8:17.40" which he ran this season in Hungary. A-t-il assez faim pour remporter? That was an attempt at a "Hungary = hungry" joke. Jordan Macintosh, Cole Dinsdale, and Kevin Robertson will battle it out for third. Robertson recently won the U23 NACAC title. Macintosh is named after apples that are perpetually soft, BUT HE'S NOT. Mayyyybe he slides into second.
Women's steeplechase we're looking at a Ceili McCabe–Regan Yee rematch from last year and ALSO from the Harry Jerome Classic two weeks ago. A CE-RE REMATCH. Except Ceili is pronounced "Kay-lee" so that doesn't work. Ah well, good attempt. Both of those races were won by McCabe by about one second. At Harry Jerome she was able to initiate her enduring soccer skills to kick by on the finishing straightaway. It might take some sort of elaborate heist for Yee to take her down. Can Grace Featherstonhaugh or Alycia Butterworth challenge? Grace feathered herself into third last year, but Butterworth beat her by a second at Harry Jerome. McCabe's Australian training partner, Amy Cashin, is signed up to compete here as well which could inject some fair dinkum bedlam into this one mate. She was quite a way back at the Harry Jerome meet though.
5000m: Alright. On the women's side of this thing Briana Scott is entering the race like she's been rolling around in a Velcro suit on a Velcro floor because she's on an absolute tear. A 27 second improvement in her 5000m PB since 2021 has put her on the map as a 33 year-old mom. That's hype. She beat cross country champion and Olympian Julie-Ann Staehli at the Harry Jerome Classic. She ALSO beat last year's ACTF 5000m champion Gracelyn Larkin there. Who else is in the mix? Leslie Sexton has been pretty nasty this year after dropping down from the marathon to go on a speed adventure, move over Keanu Reeves. Erin Teschuk is in there. Rebecca Basset is in there, Ayers and the Luckis are in there. I have to apologize to Jessy Lacourse for saying she was "nasty" in the U SPORTS predictions last March. That doesn't translate well to french. Sources have told me some better slang for saying she's really good is "crissement bonne." Hopefully that works. Regardless, she's in there too.
In the men's race we have favourite Ben Flanagan coming into this having run a 13:20 5k in California on Saturday. Will he have enough juice in the legs? He better be pounding the Sunny D's, because there will be a whole bunch of guys lining up behind him trying to spoil the party. One of those guys is last year's silver medalist Thomas Fafard. This guy is coming straight outta Québec, tokébakicitte. In mindset he is anyway –he has spent a decent amount of time altitude training as well. Last year he tried to go with CPT, looked absolutely spent, but then found a second wind before unleashing a sonic boom into second place. Wild. Behind him last year was Mitchell Ubene, who really brings a fresh, reckless mindset out there. When this guy isn't hammering cakes or watching Larry Enticer smash his face off of snow packs for inspiration, he's running half marathons in send-o-vision googles and growing dusty facial hair because why wouldn't you? He comes in with the fifth fastest seed time, but that's because Waterloo 5k champion Jeremy Coughler and former NCAA standout Andrew Alexander both clocked some fast times on the Boston BounceTM this winter. Coughler won the 10,000m championships a month or so ago but let's be honest here, the Waterloo 5k is what stands out on the resumé. Alexander was third at the Athletics Ontario Championships two weeks ago behind Ubene and Nick Bannon, who has been going casino mode and slotting himself into the right spots lately. Philippe Morneau-Cartier was fourth in that race after making the trek over from Québec to throw his weight around. He didn't have enough Gaz in the MoreCar tank (see below) to hit up the medals in the end. Mike Tate and Connor Black are putting some bandits representation in the mix here. Should be a good one.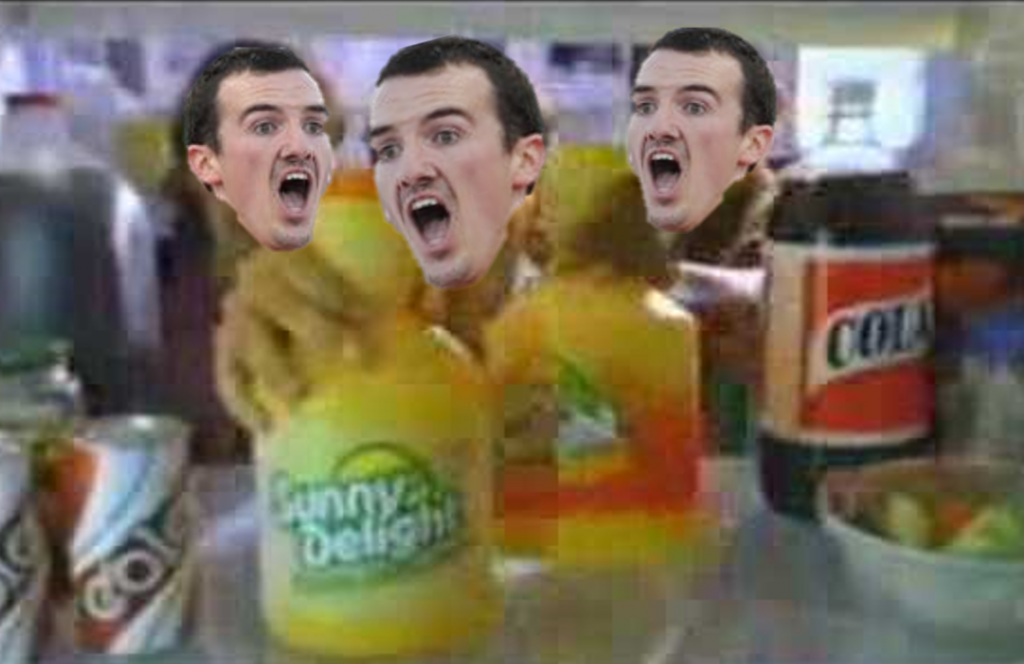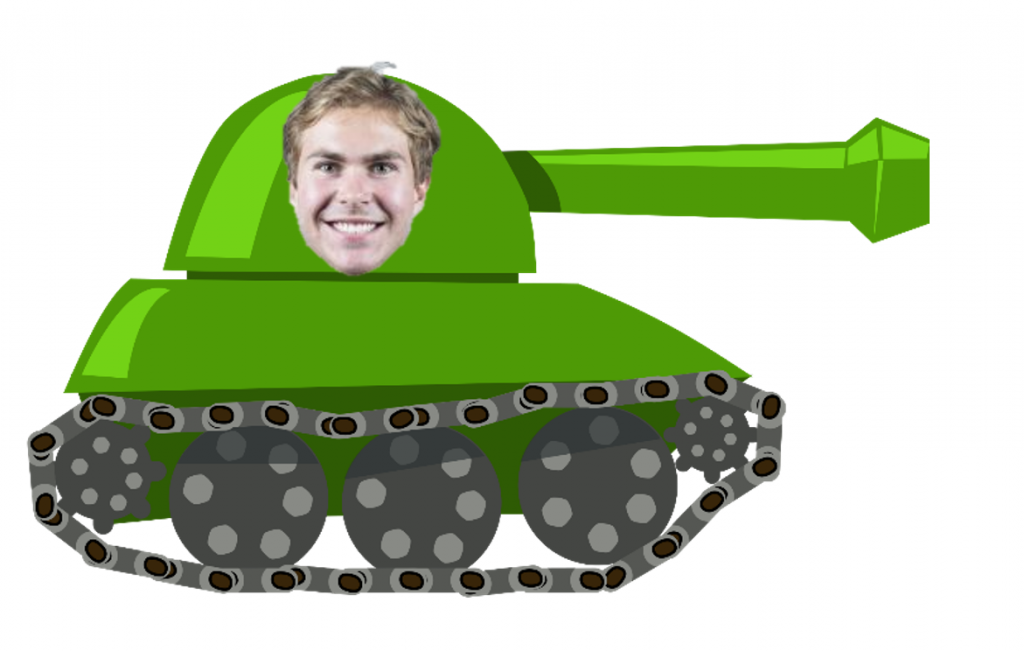 Friday Events
Heptathlon: Better study up on your geometry because this event is shaping up to be a close one. Nicole Ostertag was the silver medalist in the pentathlon at the 2020 U Sports Indoor track and field championships. In 2022 she did not compete at U SPORTS indoors, but placed second at the NACAC championships that May before DNFing at ACTF and suffering a rough injury at the Canada Summer Games. Now she's back. Idk what the kids say these days. Back on their bullshit? In Not Trackie terms that translates to "back firing enough laser beams to simulate a star wars fight sequence." Someone else who's gone terminator Arnold Schwarzenegger mode and come back is Georgia Ellenwood. The 2018 NCAA heptathlon champion suffered a tough injury after competing at the Olympics in 2021. Madisson Lawrence and Hannah Blair are also in this one. They came first and third at the U SPORTS championships in March, where we said Lawrence "leaped higher than the 11 lords in the Partridge in a Pear Tree song." So yeah, she's pretty good. She finished second last year. Blair was fourth.
Decathlon: For the mens' decathlon we'll see how good some of these up-and-comers can do here. Philip Frank is the top-ranked Canadian in the field. He's from Texas, holds dual citizenship, and also holds dual first names. Cole Wilson is an NAIA guy from Burgessville, Ontario. If you don't know where that is, it's south of Woodstock. If you don't know where THAT is, it's in between London and Hamilton. You just know this guy started his training by racing tractors down county roads. Nice. Ryan Evans will look to bounce back after he went squirrel food mode at OUA's during indoors and put up some marks that were absolutely nuts but then followed it up with tough one at U SPORTS. This contest gets started Friday and finishes Saturday.
Womens' Hammer Throw: Camryn Rogers and Jillian Weir are the class of the field here. They can blast hammers over fences like a baseball game on the moon it's as if gravity ceases to exist when they enter the throwing circle. Rogers is the favourite –she's already won a World Championship silver medal. Weir is currently just off the auto-qualifying standard (73.12m vs. 73.60m). We'll see how close she can get to it, but her mark will likely be good enough to qualify for Worlds through the rankings.
100m: It's the usual squad back for the 100m with Jerome Blake, Andre De Grasse, and Aaron Brown squaring off. Brown edged out Blake last year while De Grasse did not start. It will be interesting to see how they stack up against University of Saskatchewan athlete Dushos Itsekiri, who competes for Nigeria internationally. He's been slicing and dicing out there this year just getting all the toppings ready to put on the pizza, and actually has the fastest season's best of the four of them at 10.02 seconds. De Grasse always seems to peak when the Olympics come around, so if he can't toss enough dough to take the win this time around there's always next year. Will it be Brown who delivers? Will Blake be the one eating the pie? I think I would rather win a pizza to eat than a gold medal but idk maybe I'm built different. Should be a good race.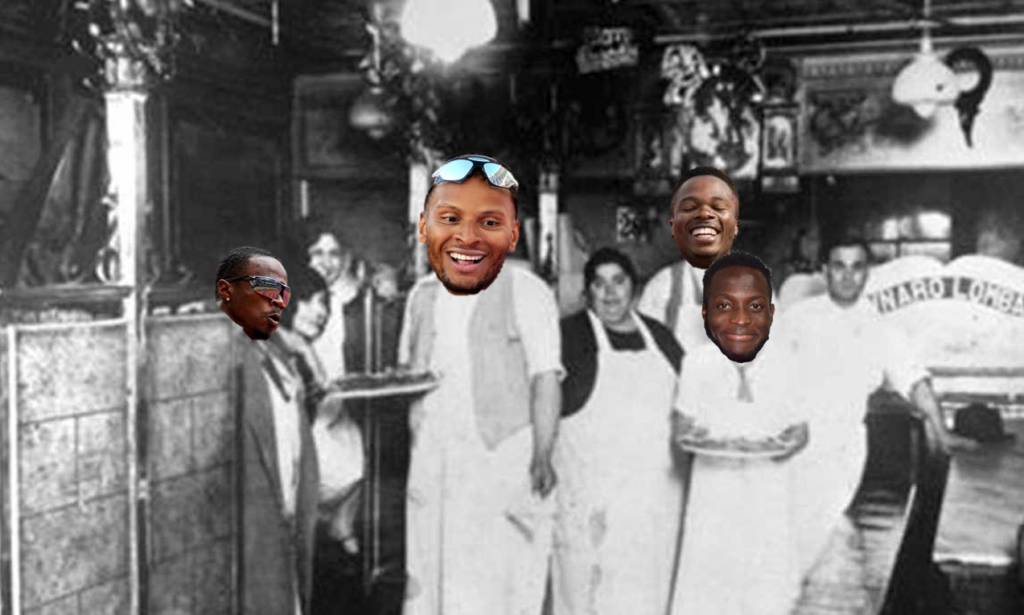 In the womens' contest, Khamica Bingham comes in as the favourite having run 11.19 this season. Sade McCreath though has dropped her personal best by 0.11 seconds to 11.27. Maybe she will go auction mode and make a bid for the win? Jacqueline Madogo is another athlete rising up the rankings and Leya Buchanan will look to draw on her experience to crack the podium. She placed second in 2017, 2018, 2019, and 2022. She also won the 200m in 2019. The speed reserves are absolutely there.
Saturday Events
20km Racewalk: We partially wrote this one for Evan Dunfee. 20km racewalk at 7 am eh. That's rough. That's 50 laps around the track –except for this event they will do 2 laps of the track plus 19 one kilometre loops. Respect the dedication to this sport man jeeze. Many of these athletes don't do too many 20km efforts, but Olivia Lundman comes in with the top 10,000m time of 47:24.73. That's walking at a speed of 4 minutes and 44.5 seconds per kilometre folks. If I could do that, I would be able to simultaneously hold every paper route in the neighbourhood. A lot of people deliver the newspaper these days while driving in their car. And it's not even a good newspaper, it's just a bunch of flyers. Whatever. Olivia happens to hold the U20 national 10,000m record. She's not eligible for U20 records anymore, but the U23 20k record is 1:38:09. That's absolutely insane. Lundman has clocked 1:48:56 in her only 20k race so far. Katelynn Ramage and Rosalie Drapeau seem like they're in pretty similar shape to battle it out for second.
For the mens' race, Tyler Wilson placed third last year with a time of 1:36:59. With no Dunfee or Thorne competing this year, his closest competition will come from the American who is entered, AJ Gruttadauro. We'll see if Tyler can keep up with him. Also watch out for master's legend Jianping Xu because I see him on the local trail a good amount lol. The Canadian U23 record is 1:19:57 set by Ben Thorne in 2015 and like holy heck that's sub 4 minutes per kilometer while moving your hips like you're on the dance floor and Shakira's entire discography is playing. I think my hips would lock up if I did the same dance move for 80 minutes. Would need to see like 18 chiropractors after.
Womens' Discus: Not many competitors in this one but I guess people should get introduced to Julia Tunks, who has thrown 59.11m and is just 17. That's good for a North American U18 and National U20 record. She won the Ontario High School championship by 16m. Okay then. Her dad, Jason Tunks, is a three time Olympian, so I guess she gets some tips from him. Rachel Andres is good enough to challenge her. She's 36 and still launching discs like they're frisbees. Impressive. This could be a pretty interesting competition to be honest.
Mens' Triple Jump: This one will be a rematch between the gold and silver medalists from U SPORTS in March, Kenneth West and Femi Akinduro. Kenneth is just one week removed from competing at the U23 NACAC championships in Costa Rica, where he placed fourth, so we'll see if Akinduro can capitalize on any kind of tiredness. It's not that hard to get jazzed up for a competition two weeks in a row though. Just borrow John Gay's bouncy castle and speaker and replace the CD with Miles Davis' Jack Johnson album. Problem solved.
Womens' Pole Vault: In the Pole Vault it will be Alysha Newman vs. Annicka Newell. Both athletes were on the 2016 Olympic team and finished first and seventh at the 2018 Commonwealth games, respectively. Since then, both have struggled with various injuries and no-heights at competitions, but both are currently rocking roller blades because they are in-line to qualify for worlds this year. Let's see if they can turn the runway into a sauna and push each other to some steamy heights.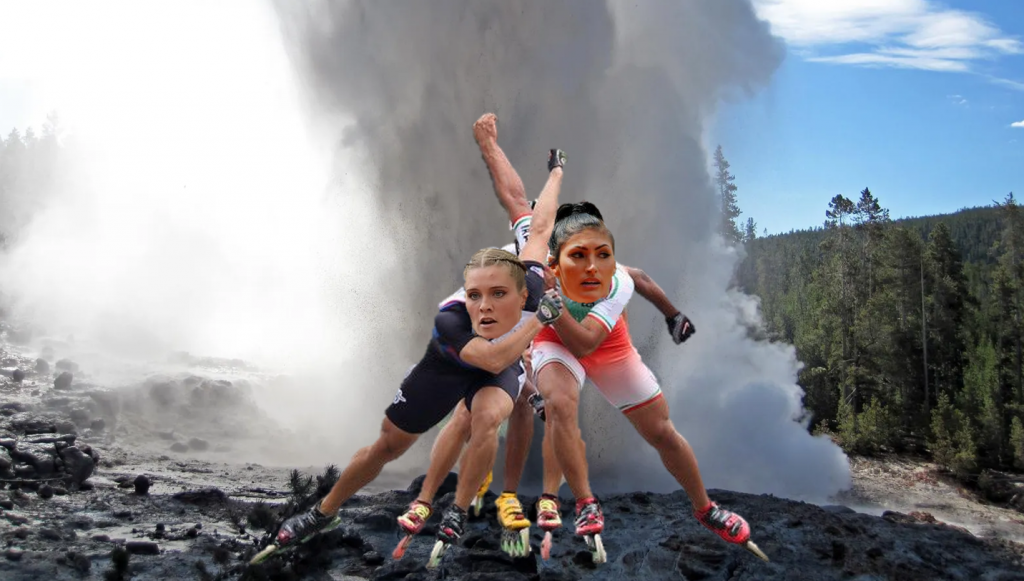 Mens' High Jump: Django Lovett comes in ranked 23rd in the world but he has not competed since May, so we aren't sure if he's gonna be flopping onto mats this weekend. Aside from him, Eric Chatten, Aiden Grout, and Noel Vanderzee all come in with PB's of at least 2.20. Of those three, it's Chatten who has the most experience –he's been clearing bars over 2.18m since 2017, whereas Grout and Vanderzee both jumped big personal bests of 2.20 for the first time this year. Bar clearing usually happens around 3 a.m., but a high jump competition at that time probably wouldn't get too many fans, so it's scheduled for 5:50 p.m. (Pacific). We'll see which of these guys can channel Semisonic's Closing Time the best.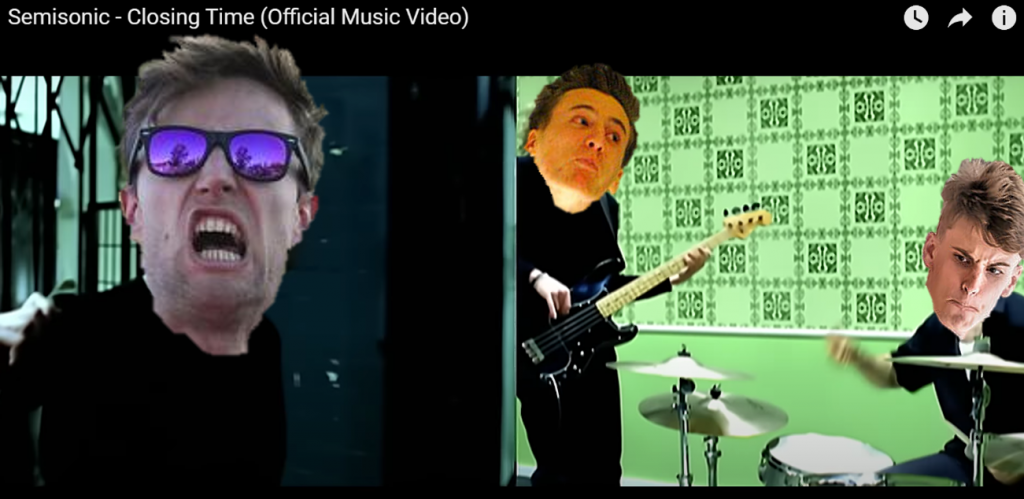 Womens' Triple Jump: Yeah, it's gonna be the Caroline Ehrhardt show. She jumped 14.03m in May at the Bob Vigars Classic in London to break the 13-year-old Canadian triple jump record, and if she replicates that performance it might qualify her for the world championships. Currently, she needs to jump 13.83m to put herself into the top 36, as far as our understanding of the rules goes anyway. 13.93m to be safe. Others challenging for the podium will be Busola Akinduro, who was second to Ehrhardt at the Athletics Ontario Championships, Tamara Grahovac, and U SPORTS champion Mandy Brunet.
Mens' Hammer Throw: It's been Ethan Katzberg having a terrific projectile-launching season so far but he only placed second last year to Adam Keenan, who is having a decent season of his own. It's looking like they will both qualify for the World championships as they come in ranked 5th and 19th in the world, respectively. Rowan Hamilton comes in ranked 23rd. I think Hammer Throw is Canada's best event folks. Don't forget Rogers and Weir over on the womens' side. Could you imagine if any of these athletes had a dog? They wouldn't ever need to take it for a walk. Just heave one ball out there for the dog to fetch and it's gotten a good 5km trek in for the day.
Womens' Shot Put: Sarah Mitton comes in ranked second in the world and has thrown the fourth furthest mark this year measuring 19.83m. To do that, you basically need enough force to lift up a house. If the Canadian government ever decides to get its act together and address the climate crisis Sarah can help drag houses in high-risk flood and forest fire areas to safety while we reduce our greenhouse gas emissions and ensure less extreme weather occurs. Sounds like a plan to me, but we better hurry up because Sarah can only carry so much. Grace Tennant was third last year and has improved her personal best by 0.67m this season. She's the favourite for the silver.
Sprint Hurdles: Womens' 100m hurdles is an interesting one. Michelle Harrison has not quite been able to replicate her 12.74s run that she ran in the world championships semi-finals last year, but has come close with a 12.82. Mariam Abdul-Rashid was fifth last year, but after the 2022 Canadian championships she clocked a 12.82 and has hit 12.89 this season. She currently finds herself in position to qualify for worlds through the rankings. Keira Christie-Galloway and Tatiana Aholou are the next best two and one of them could maybe sneak into silver, but it's probably gonna be a Harrison vs. Rashid show. Our sources have told us that Harrison has been honing in her speed by focusing on the 100m. She's been strengthening her stride by doing reps with chickens strapped to her legs and then using the eggs to make energizer muffins, whatever those are. All we know is that those chickens have now experienced an adrenaline rush that they have to keep coming back for. Not sure if Mariam can match that sort of energy. She seems pretty dang smooth and repped some Frozone-looking glasses in the semis, so maybe.
For the mens' 110m hurdles, decathlete Damian Warner has the best mark entering the competition. Must be nice to be nasty enough at decathlon to win individual events. Pretty crazy. It will be Craig Thorne, Carter Birade, and David Adeleye lining up behind him for the medals, and also looking for the opportunistic takedown. Craig Thorne won U SPORTS in March after which we made this tweet.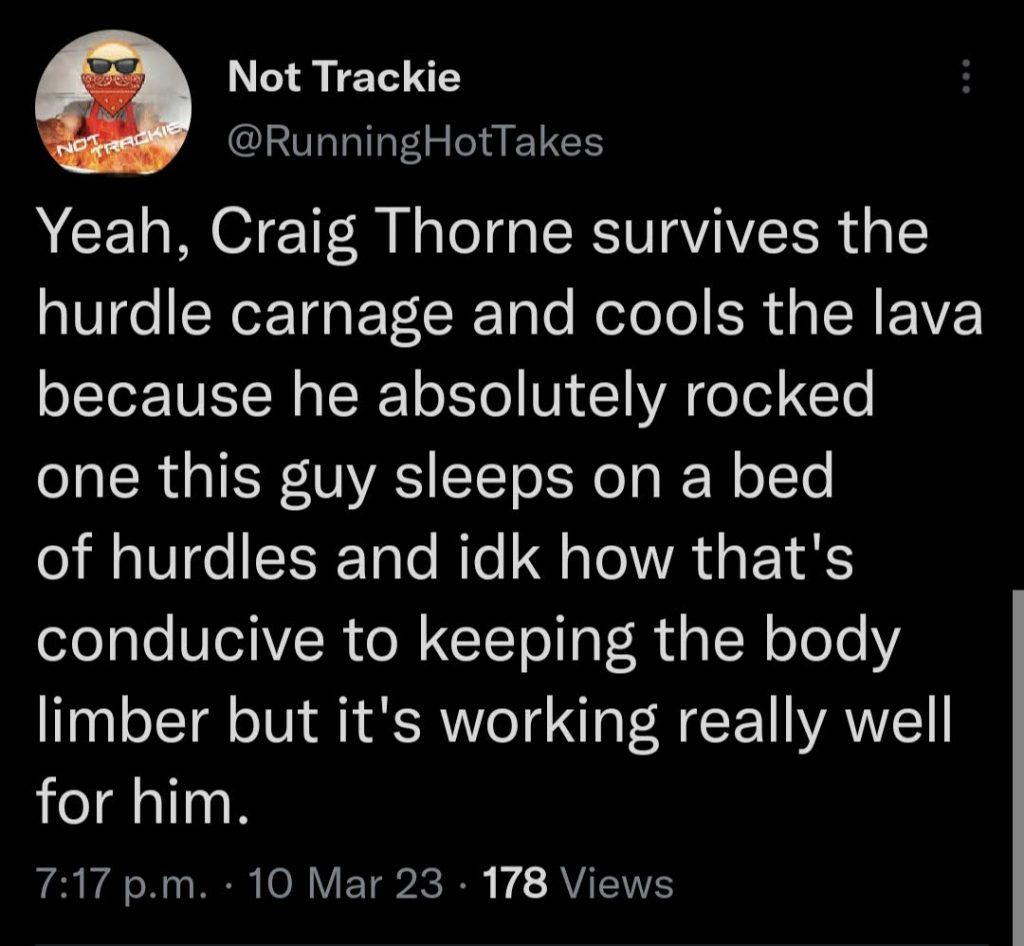 We were absolutely unhinged at U SPORTS. Looking back, idk how we came up with some of that stuff. I didn't even remember that Craig Thorne sleeps on a bed of hurdles. I wonder if he has a matching hurdle pillow or if it's just a normal one. He was also second at this event last year by the way. Carter Birade was second at the Big West Track Championships in May, so he has that going for him. Why do so many American athletics conferences call themselves BIG? Settle down. It's like 12 teams out of 300. David Adeleye was fourth at U SPORTS. Maybe he will have an "eye" for the finish…

400m: Mens' 400m we had a bit of a treeless field last year I mean it was wide open. We were a bit surprised when Nathan George took the win, but we probably shouldn't have been because further investigation showed us that since 2013, he has only missed the final once! That was in 2019 and it was only because he didn't even compete at nationals that year. He won the whole thing in 2016 too! Always re-evaluate your thinking in light of new information folks. Nathan George is nasty. Can he take down Austin Cole again? Myles Misener-Daley and Michael Roth are out looking for the win too. Don't forget that Misener set the Canadian U18 record in 2018. He has the top ranked mark for Canadians this year. U SPORTS 300m silver medalist Emmet Bravakis is in there and he won the bronze last year. Chris Morales is the Ontario U20 champion but is running up an age division and made the final. There's also Manitoba Menace Tyler Cox-Yestrau, who was 4th at U SPORTS in the 300m, and Kai Spierenberg, who is definitely ready to throw some spears at some 'bergs. Maybe he needs to try the javelin. Only one thing is certain, Tyler is gonna beat him by 0.01s.
The womens' 400m contest is a U HAUL truck on moving day I mean it's absolutely packed and ready to rumble. So much so that Kyra Constantine and Ella Clayton missed the final. Constantine was a Tokyo Olympian and Clayton has the third best Canadian time this year. Last year's champion, Aiyanna-Brigitte Stiverne, made the final. So did Madeline Price, who was second in 2018. Lauren Gale has the seventh best time this year and was second last year, and U SPORTS 300m champion Zoe Sherar has the sixth best. Alyssa Marsh comes in with the top time this season (aside from Savannah Sutherland, who is not competing) and was an NCAA championship semi-finalist. There's also Grace Konrad, Kimberly Hyacinthe, and Micha Powell. Everyone has a seasons' best below 53, but how many will go sub 52 in the final? And will any come close to the world standard of 51?
800m: Final event of the day and first we have to shoutout Eamonn Kichuk for winning OFSAA in like 2010, falling off the radar completely, and now putting himself back in the track and field picture all the way to a national final. Apparently this guy's workout sessions are straight out of the EA Sports Need For Speed video game franchise. It's in the fucking game folks. Les Québecois have stacked a smoked meat sando in there with Laurent-Olivier Dumont and Zakary Mama-Yari as the buns and Yassine "the monster" Aber as the absolute slice in the middle. I watched Aber clutch the 4x800m win for Les Carabins at U SPORTS with friend of the show Louis Brosseau (rhymes ftw) and I literally had to participate in 15 yoga sessions to calm down after. Mama-Yari was on that team too. Unfortunately, their pal Mohand Khelaf got left out in the semis after heat 3 went out slow. Olivier Desmeules (third last year) got left out in that heat too. The french are absolutely INSANE at the 800m right now folks. All five of those guys made the final last year. We all know it's gonna be Marco Polo Arop taking the dub (he has the third best time in the world so far this year), but second and third are up for grabs. Abdullahi Hassan has settled down a bit after setting the Canadian U18 record with an absolutely absurd run at nationals in 2019 where for a second, he made me think he was gonna beat Arop and Brandon McBride as a 17-year-old. "Settling down" for him still means improving his personal best by 1.43 seconds in the last four years though. He came fourth at the NCAA championships this season and is ranked 70th in the world. He might even be able to get himself into a quota position with a low 1:46. After that it's Stephen Evans, who's always just kinda there and was the U SPORTS 600m champion in 2019. "Way 2 go Stevie" we said after he won that, along with some other silly stuff that we aren't going to repeat. Lastly it's Leroy Russel, who is still relatively unknown because he competes for Arkansas, but he just placed fifth at the NACAC U23 championships in Costa Rica. This is his first senior final. Nice job.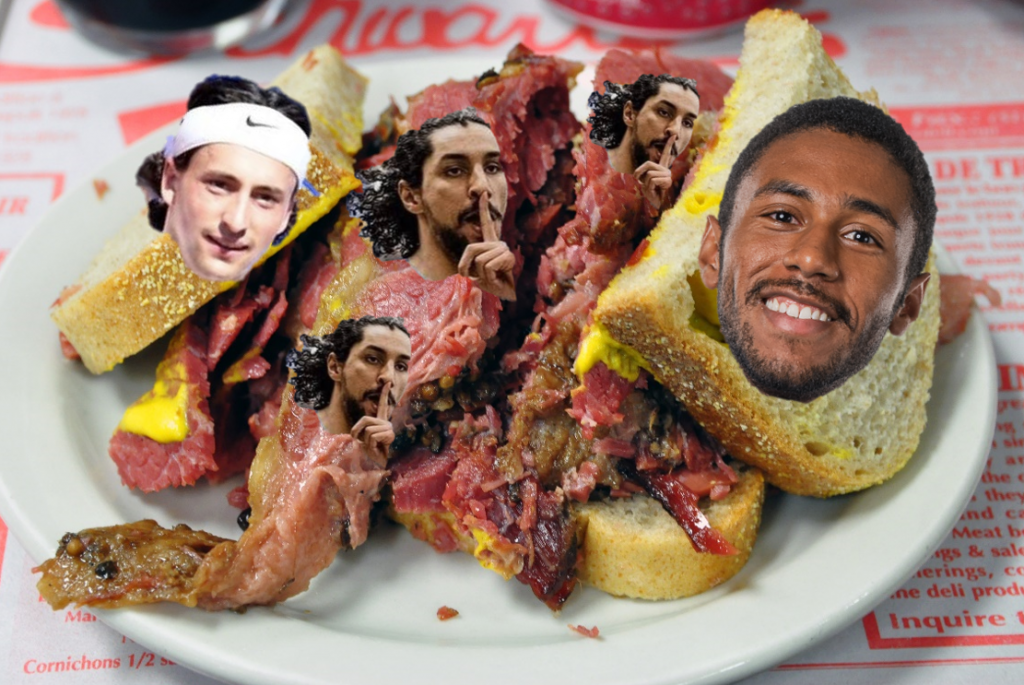 In the womens' 800m race there's no Butterworth this year, which means Maddy Kelly and Jazz Shukla will be hitting them with it out there. What's IT? Idk. Pool noodles? Maddy and Jazz are gonna smash the field with rainbow-coloured pool noodles and then sprint to the line. Others in the field looking to challenge for the podium include Sydney Smith, who was 4th in the 600m at U SPORTS in 2022, Adrea Propp, who has experienced enough Regina to finish 5th here two times, Aurora Rynda, who was an NCAA finalist this year, U SPORTS 1000m champion Sadie-Jane Hickson, U SPORTS 600m champion Emma Dagenais, and Canada Summer Games 800m Champion Olivia Cooper. I hope they like eating pool noodles because its gonna be an absolute buffet out there.
Sunday Events
Mens' Pole Vault: Oh baby it's the Nathan Filipek–Derek Theodore rematch from last year where they tied at 5.26m and Filipek won on a countback. Ya kidding me? Ya know what else gets a "ya kidding me?" Landlords. Don't need 'em. ANYWAY… this Daniel Gleason guy is pretty good too. He won U SPORTS in 2020 and recently won the Athletics Ontario championships with a vault of 5.20m. Behind him are 2023 U SPORS competitors Brennan Seguin, Spencer Allen, and Nojah Parker who finished 1st, 2nd, and 4th in March. One of them might be able to challenge Filipek, Theodore, and Gleason from the podium, but it would take a good day for them and a not-so-good day from the top guys.
Womens' High Jump: We've got Marguerite Lorenzo coming in as the favourite having won last year and jumping 1.84m so far this season. She was sixth at the NCAA championships in 2022. Behind her is Madisson Lawrence, who we've already mentioned in the Heptathlon section. That's because she won the U SPORTS indoor pentathlon AND high jump. It took her 1.76m to win that contest, which was 4cm LESS than what she hit in the pentathlon competition. The real question is, will she put her hair into Cindy-Lou Who mode? Somehow it was effective. Pretty cool. Behind her it's Falyn Reaugh, another dual citizen who lives in Texas and went to Oklahoma University, and Hannah Blair, who was fourth in the Heptathlon that finished Friday. What is UP with multi-eventers also being nasty at high jump? Crazy lol.
Mens' Long Jump: Holy heck are we done yet? Now is about the time in the column where we start to just make shit up. Sometimes that makes it more fun idk. Men's long jump we have U SPORTS champion Michael Akintunde who once cleared the South Saskatchewan River without a running start. When this guy isn't working on his "horz" he's playing rockband drums on expert and nailing every note. That's right, we said "horz". If we can say "vert" for vertical jump then "horz" is short for horizontal jumps. This will definitely never catch on but we don't care. Behind him in the entries is Scott Joseph, who won U SPORTS in 2020 while competing for Regina, so both of these guys have ties to Saskatchewan, although Scott now competes for the University of Calgary Athletic Club. Usually, Scottie is the one beaming people up but this time he will have to beam HIMSELF to the top of the podium. I'm not sure if Star Trek works that way. Pierce LePage has decided to take a decathlon break to act the role of shit disturber in the long jump. We respect it. We'll see if he can launch his massive frame past the marks that Akintunde and Joseph set. The top returner is Bryson Patterson. He placed third last year and comes in ranked fourth.
Womens' Long Jump: Only five auto-qualifiers in this event and the top two from last year, Christabel Nettey and Madisson Lawrence, are not competing. That opens the door for Aasha Marler-Goodwiler, who finished third last year. She will have some tough competition against Hayley Manners. Hayley recently finished third at the MAC conference championships while competing for Central Michigan. It's all about who can channel that board energy best folks. Become one with the board during the competition. Give it a kiss. Okay maybe don't give it a kiss, you'd end up eating a good amount of sand. BUT RESPECT THE BOARD.
Mens' Javelin: Should be a pretty close battle between quite a few guys. Roan Allen, Callan Saldutto, Jared O'Riley, Andy White, and Joshua Mather. They come in ranked 1,2,3,4,5, but last year they finished 4, 2, 3, 5, 1. They're all throwing right around the same distance too. Allen has the best of the five at 75.04m, but he threw that last April. It will come down to who can go handle mode and get a hold of one. It's an absolute clusterfuck.
Mens' Shot Put: Over in the shot put we have multi-time U SPORTS gold medal winner Mark the Bujinator Bujnowski setting up his ray gun against some stiff competition in Québecois Youssef Koudssi. And I mean stiff, man. If I tried to run into one of these guys I would just bounce right off. They wouldn't move an inch. Mark beat Youssef pretty handily last year, but this year Koudssi has bettered his PB by nearly 2m. Mark's gonna need his whole arm to win this time. A whole bunch of guys could challenge for third including Mo Asiff and Sam Bourque.
400m Hurdles: For the first time in a while, Noelle Montcalm won't be participating. She won in 2013, 2014, 2016, 2018, 2021, and 2022. A new powerhouse has emerged though in Savannah Sutherland, a Saskatchewan athlete who took the W at NCAA's this past season and has the world standard. Another athlete going morning sun mode and entering rising star territory is Brooke Overholt, who currently finds herself just outside the 40-athlete world championship quota and could slide in there with a sub 56 second riperoni in the final. She was second last year. Let's go.
For the mens' 400 hurdles we're looking at last year's silver medalist, Justin Rose, going up against last year's U20 champion, Ben Tilson, with a side of Oliver Grant, Ryan Hegarty, Owen Babcock, and David Moulongo who were all 2022 finalists in the open and U20 divisions. Classic DJ's spin discs, but our made up sources tell us that Tilson has been learning from his Windsor friends to spin the soup cans. Comes out better that way. Justin Rose is bringing the can openers though, he's gonna be seeking to yank the lids off and dump 'em in the recycling. Whoever has to clean up the mess after this just better make sure not to cut themselves because opening cans can be dicey in the best of times. We got way off track here folks, let's move on to the next event.
1500m: Womens' 1500m it's Lucia Stafford leading the charge with a world standard time but last year she and Natalia Hawthorn left it real late and Glynis Sim NEARLY pulled off a massive upset. This year she's going to have to contend with up-and-coming phenom Simone Plourde. When Simone says "I'm faster than you," and goes on the Plourde PatrolTM it's hard not to lose. She's improved her pb from 4:14.93 to 4:06.47 this year and won the PAC-12 title before deciding to be like a camera and Go Pro. Who else can make a bid in this pack of 12? Kate Current maybe if we experience electric thunderstorm conditions. Cameron Ormond maybe if we experience coffee shop conditions. Regan Yee maybe if we experience cloudy skies that make it dark. Glynis Sym if we experience déja-vu. Courtney Hufsmith and Florence Caron are the other athletes who snagged big Q's, or as they say in Québec, GROSSE qualification. Amazing. Caron was third at U SPORTS in March and Hufsmith has finished fourth at nationals a couple times. Look out for them too.
Mens' 1500m, Charles Philibert-Thiboutot is rounding back into 2016-type form here folks and that is très dangereux. Jean-Simone Degagnés knows how to wheel and deal though, gassing up the crowd at every opportunity and getting into mud battles with his friends for important cross training. It's looking like DESTINATION → VAINQUEUR for these guys. Kieran Lumb though was part of mile powerhouse University of Washington this past season and we're hearing he sleeps on the FLOOR in a sleeping bag to prep for the type of discomfort a fast 1500 can bring. That would be unparalleled swagger, but Aaron Ahl is in the same situation. Robby Heppenstall took down the field last year after lulling them into a kick with his send wizard powers before injecting a send fountain into the race over the final lap. He's back for more. Cam just runs like a Pro and Charlie has been there and Dannat, both of these guys could sneak onto the podium with a good day. Speaking of good day, friend of the show Matt Beaudet is in here, and so is his buddy Kevvy Roberston. Good dudes. Purnell and Fafard round out this field and somehow Mitch Ubene made the cut. What a silly guy. Important note: Lumb and Heppenstall are currently inside the world championships quota but would definitely benefit from a top 3 finish.
200m: Finally, the last event. Let's start with the women. Lauren Gale is the only athlete in the field to have run a sub-23 in the last two seasons, but Jacqueline Madogo has been having a good outdoors after winning the 60m indoors at USPORTS. Her and Sade McCreath have the flat out 100 speed. U SPORTS 300m champion Zoe Sherar might have something to say after placing second in the 400m. And if Grace Konrad takes the 400-200 double that would be crazy. The fastest returner is Catherine Léger, who placed second last year.
For the mens' 200m this Aaron Brown guy has the starts figured out man like it is physically impossible for him to have a bad start. Whatever brain frequencies this guy vibes at on the start line are silly. Is it Parliament Funkedlic? Yeahhhh it is. Jerome Blake will try to stop Aaron from tearing the roof off of this sucker, or maybe he will just try to tear it off harder. Maybe he has crow bars for arms or something idk. Andre De Grasse is better in the 200 than the 100. He will try to shake off the disappointment of missing the 100m final by taking a jackhammer to the 200m roof. We slept on Brendan Rodney in the 100, but not in the 200. He's always been a better 200 guy, and took the win in 2016 ahead of Brown AND De Grasse. I think the end of this column calls for another group pic. That's all she wrote.