Intro
Haha that's right, ACXC decided to absolutely bungle this one (per sources). Usports XC might have featured a starting "Danger Gauntlet," (and I witnessed not one, but two fellow runners absolutely eat it in the Danger Gauntlet, I hope they survived) but ACXC has decided to one up them by blasting the course off into the KO Zone. We'll see how it plays out. GG ankles. We're not going super hard for this one folks. I even kept the watermark in the picture. Thanks BIGSTOCK. Hype.
1. No Kieran McDonald
Left him off the prediction contest. I EVEN had him on my list of people to put IN the prediction contest and still missed him. Well now he gets to be in the hot takes. I feel like that's cooler (or hotter)? I'd probably slot him into group two; however, last time I picked him in a prediction contest he came third last so you're welcome?
Prediction: Old McDonald Had a Farm. E-I-E-I-O. Idk. Top 10 finish for Kieran because he's cool.
2. Luc Bruchet vs. CPT Ft. John Gay
Well let me tell ya these 2 guys have major chips on their shoulders. Des frites grandes sur leurs épaules. Bruchet was sent packing by a Denny's-pancake-munching Mike Tate at the 2019 championships after being predicted to win by famed running website Canadian Running. We correctly predicted Mike Tate to win due to his shorts requiring a motor to keep up with his legs. Yap. I can't believe I made that up either. Charles really took his fake ACXC 2020 snub to heart, and honestly I don't know whether to be scared or honoured that he cared about that so much. I think the motivation to show how wrong we were could get him the win. BUT NOT IF JOHN GAY HAS ANYTHING TO SAY ABOUT IT. Watch out for that guy. He's nasty.
Prediction: CPT.
3. Genviève Lalonde
Everyone likes her to take the dub and for good reason –she's taken the last two pretty easily. After a slow start to track this summer, she rounded into form pretty quickly and took her national record back. Lacourse is going to be pretty spent from hammering Les Plaines harder than Mike Tate hammers the cakes. Je pense aussi que la Nouveau-Brunswick légende gagnera.
Prediction: UNDER 30s gap FTW.
4. Respect the CAUL women
Unless I missed something CAUL should easily CALL it a win with a squad sandwich stacked high with Lacourse, Beauchemin, Berubé, and Paquet. Basically, their Usports team a decidé prendre un voyage à l'Ottawa pour un autre demain calis. Vous aimez le voir. Imagine just going to Ottawa to run it back a week later. Jeeze.
Prediction: More lave, more auto.
5. Second for women's teams?
Well you could watch out for Dundas Valley Track Club (DVTC) where coach Patty Mackinnon definitely has his athletes dialed in to the escarpment training plan, which is when you just try to keep up with Victoria Coates as she dummies the Dundas Valley trail network. Free agent pick-up Maddy McDonald will help provide some pre-race hype and another low score. There's also Toronto West athletics who are going to need some Luck(i). Mile 2 Marathon could challenge if they remembered not to skip the 10k training that falls between the two ends of their spectrum. Perhaps Monarch Athletics is going to go caterpillar to butterfly mode? Tough call.
Prediction: Butterflies.
6. Is Jeremy Coughler Nasty?
Guy took a running break for a few years then next thing you know he runs sub-14 on a relatively crusty track during the summer. THEN he won AOs. Also clocked a 29:04. The Weather Network is definitely reporting that there is a nasty watch in effect. Maybe he can fix my back.
Prediction: He's nasty, but not THAT nasty.
7. TBIR? Bandits? CAUL?
Okay first of all, the Thunderbirds have easily produced the best memes during this, but is their team even sorted? Gravel, Gay, and Broatch are all listed as TBIR whereas Nobbs and Dozzi are listed under UBCT. Per sources: "Lmao that would be pretty funny if we messed that up though." It would also be DEVASTING for those wanting to see how this 3-way medal contest shakes out. First they can't figure out the "o" sounds in their last names and now this? It's getting pretty brutal boys.
Second of all, who's gonna take it? Laval has the most depth with CPT, Fafard, Degagnés, Tedeschi, and a whole swatch of others who have probably lavered some autos at some point. The bandits have Tate, Black, and Coughler supported by Parrot-Migas, Master, Sheffar, youtube edits, and KVSH Tokyo Drift. Can Tate and Black find that 2019 fitness again? Depends how many sleeves they wear.
Third of all, how many Cleve McQueens can you fit in a spaceship?
Prediction: I'd be an idiot to bet against Québec at this point, no matter how many cakes they have to go up against.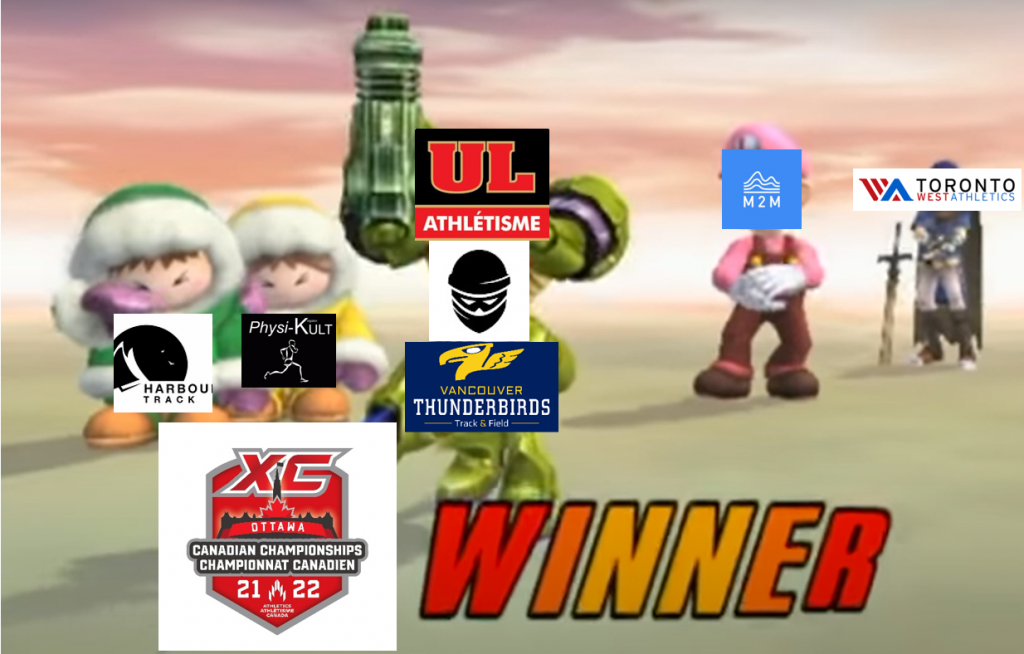 8. Taryn O'Neill
42nd at NCAAs but don't be jelly because I feel like 10k could be her jam. Like I could imagine seeing her rip an absolutely reckless one out there. Matt Bellamy guitar smash mode.
Prediction: Yellow card + Fourth
Nobody out-does Andrew Davies' 2019 post-race Backwards Bear Crawl interview. Unless they decide to talk about Backwards Bear Crawl while also saying how wack it is to send police after Indigenous Land Defenders, especially when resources could be directed towards flooding clean-up. Smarten up!
Prediction: BBC
10. Call it a Day
That's it! C'est tous.
Prediction: Needs more back rehab from sitting for too long.