Intro
Alright, we're at the part of the fun zone that makes you start thinking about fish. Just a few more sentences for you to swim through. Make sure you enter the Prediction Contest if you haven't yet. I feel like you should have more than enough irrelevant background after this to make some informed choices.
Men
4. McMaster
The DINOS forgot to call no-takebacks and Alex Drover took advantage, helicoptering himself back to the Hammer to fly in a V with some birds. Along with Andrew Davies, who had one of the nastiest cellies of all time at OUA, and Max Turek, the Marauders have a pretty stacked front three. Their questionable strategy of limiting their championship roster to one street, Broadway, could have a Hollywood-style ending largely due to a surging Ryan Tyrrell and Sam Nusselder. Unfortunately Evan Ubene is crusty, and Josh McGillivray is made of glass so even though those two live in holes, the team lacks depth. Speaking of holes, a lot of these guys were routinely smacking their irons around on the golf links for cross-training… How nasty is the big three? Are Tyrell and Nusselder nasty enough? Does Evan have another secret Ubene performance in him? Fourth in the Not Trackie pred zone is the perfect spot to launch yourself into actual first. Maybe even a hole-in-one.
Verdict: Needs more hole.
3. Laval
Yooooooooo Les Usports c'est demain calis! Literally! The Laval boys have made a habit this season of waking up, mucking a glass of Bailey's (with or without coffee), and then getting back to work. And then they wake up, muck a Bailey's, and then they get back to work… and then they wake up, Bailey's, and then they get back to work… you get the point. I'm not sure the other teams really want to be gorillas (lol, of course they do), but these guys are determined to «show everyone who the real gorillas are,» an effort being led by mighty silverback Jonathan Tedeschi. They plan on using some version of «following queen Jean-Simon to victory» which is a pretty nasty strategy, so watch out for that. Felix Lapointe-Pilote, David Girardin, and Pierre-Yves Normandin are all pretty solid as well as the 18 other guys they had race at RSEQ, but the key lies with Thomas Fafard and Philippe Morneau-Cartier. Morneau-Cartier (morcar) has been the inspiration for every verdict in the fun zone, and even he seems to understand that although his last name says the opposite, what we really need to fight the climate crisis is less car. No matter how expensive the "gaz" is he will be gassed up on Saturday. Will Fafard be able to fire on all cylinders in the messy conditions? It's anyone's guess.
Verdict: Needs More Car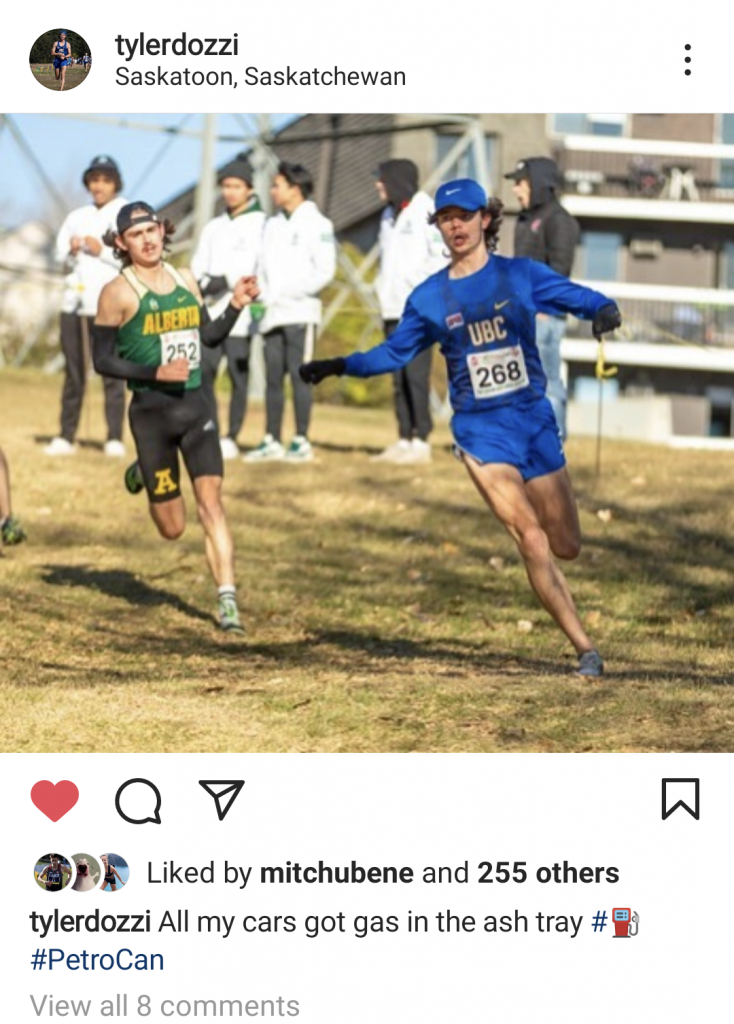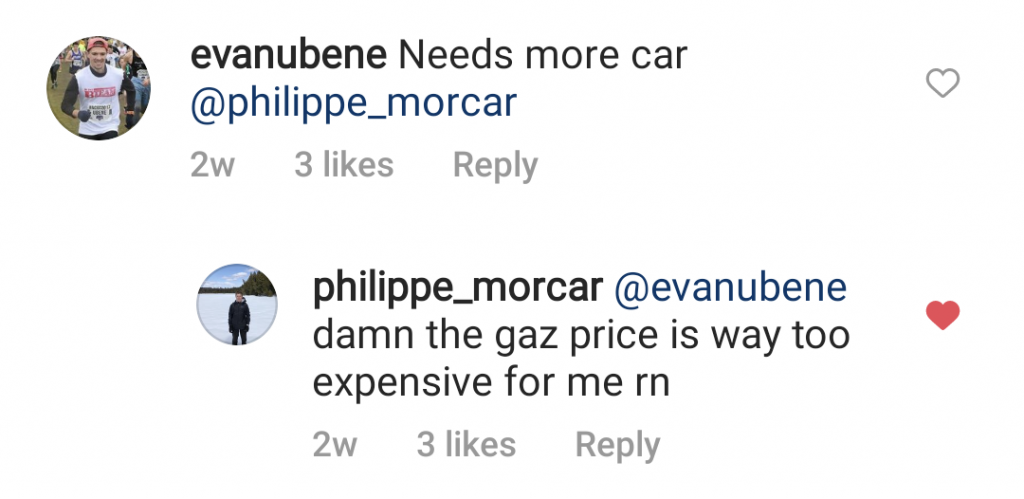 2. Guelph
Well these guys had Laval's number early in the season as Mitchell Ubene was able to feed off of Andrew Leblanc's cheering bonus to take down the silverback at the Western invite. Not sure if Leblanc is making the trip up to la Ville de Québec, but it won't matter because team CEO Nick Bannon had everything MAPPED out months ago. Seven-dimensional chess from that guy. Not sure he planned for Alec Purnell to run eight thousand kilometres per week as a mile guy but it seems to be working out. This team is still on BIKES mode, and Kyle Madden and Gavin Hughes have been switching in and out of the wheel for a pretty secure platoon strategy. The question is: will Gavin Hughes be able to drive his Scott Speedster through the line without getting a flat? If he can't the team STILL has sponsored athlete Adam Schmidt for support. Take a glance over at that guy's shades and you better have Nick Bannon's map because you will absolutely get lost. Buddy loves to throw weak bows and then apologize after. I almost forgot John Perrier, who is not only sparkling like the water but absolutely supplying the hotel brews for later. With Nick taking care of dessert and Mitch cooking up a buffet in his shorts this team is ready to eat dinner on Les Plaines.
Verdict: Needs more tire.
And there you have it. That's all she wr…
1. THE CALGARY DINOS LED BY CHAMP CHAMP ERIC LUTZ AND 4 NIGHT LAMPS KIYONGA ARE BACK AND LET ME TELL YOU THEY'RE HURTING AND THAT'S PROBABLY GONNA STOP THEM FROM TAKING THE ACTUAL DUB BUT IT'S (read this upcoming NOT really loudly) NOT GONNA STOP THEM FROM TAKING FIRST IN THE USPORTS XC FUN ZONE. THE BOYS WENT ABSOLUTELY SAVAGE MODE WITH THE RAZOR, SHAVING ALL KINDS OF PATTERNS INTO THEIR HEADS FOR THE SHOW INCLUDING A SHOVEL, A COUPLA NIGHT LAMPS, AN "RB", and an "OF." WOW!!!! ROB MITCHELL IS STRAIGHT UP BAKING PIES OUT THERE, SAUCE ME AN APPLE. JUST TURN ON VAMOS A LA PLAYA AND HOP IN THE POOL FOR A COUPLE LENGTHS, THEN FOLLOW IT UP BY HITTING SOME ALLEYS AND ROLLING A 300. CAN'T BELIEVE STEFFY DANS IS OUT WITH AN INJURY ☹. HEAL UP SOON PAL!
Verdict: Needs more practice.
Yeah, you saw that one coming from a mile away didn't you?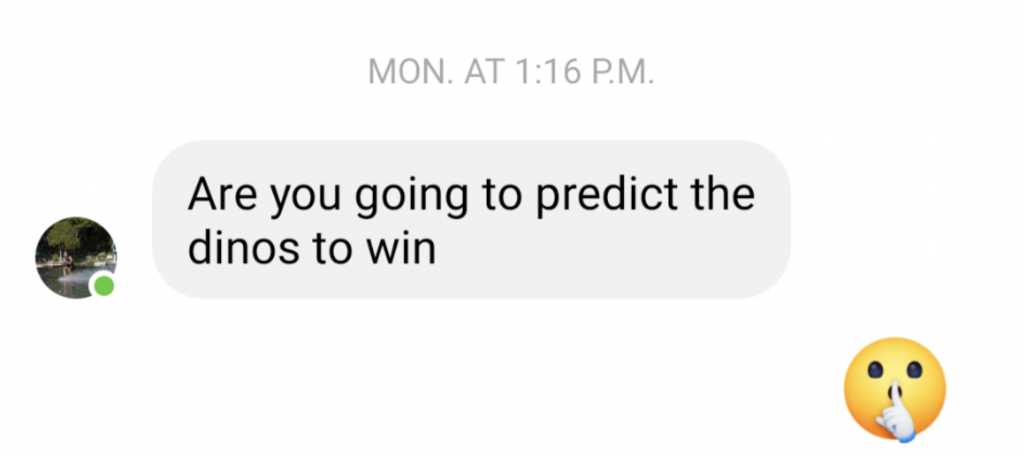 Fin